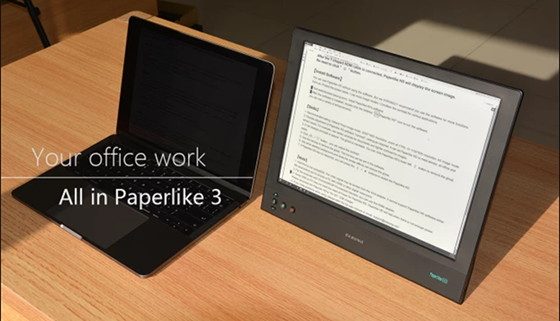 The Paperlike 3, aka the Paperlike HD, is the latest 13.3-inch E Ink monitor from Dasung.
Last week they put the Paperlike 3 up on Indiegogo for customers to place orders. It's expected to ship next month in July so at least the wait isn't as long as usual with these type of crowdfunding campaigns.
The price starts at $900 USD plus shipping, and it ships worldwide
That's pretty expensive but they usually sell for $1200 so this is probably about the cheapest way to get one.
The thing is I don't understand why the Paperlike is so expensive to begin with.
It doesn't have a processor or a touchscreen or an operating system. The Onyx Boox Max2 has the same 13.3-inch E Ink screen and it adds two different types of touchscreens, 32GB of storage space, a quad-core processor, Bluetooth, Wi-Fi, and a built-in battery. Plus it has a fully functioning Android operating system that can install apps. And it costs $100 less!
However, the Paperlike 3 probably is the best option for an E Ink monitor on the market.
The Onyx Boox Max2 has an HDMI port to use it as a monitor too, but the Paperlike is 3 generations along at this point and more time has been put into making it run smoothly as a monitor. For $100 less there's no question the Max2 is a better value if you want to use it for other things, but if you only want an E Ink monitor the Paperlike is a good option to look into.
It works with Windows and Mac computers, plus Linux and iOS with an adapter. It has a VESA mount on the back and a Kensington lock. The Paperlike connects via a mini-HDMI port and it has a micro-USB port to supply power.