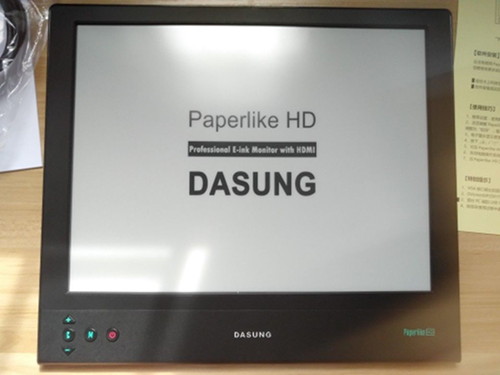 Dasung has released a new 3rd generation version of their Paperlike E Ink monitor. The new model is called the Paperlike HD.
As the name implies, it has a higher resolution E Ink screen than the previous Paperlike Pro. They bumped the resolution up to 2200 x 1650—the display size remains 13.3-inches—so now it's using the same screen as ereaders like the Sony DPT-RP1 and Onyx Boox Max.
Dasung uploaded a YouTube video showing the new Paperlike HD in action.
Other than the updated screen, it's unclear exactly what other changes they've made.
It has a mini HDMI port to connect to a computer like a regular LCD monitor, and it even has a VESA mount on the back. It also works with iPads and iPhones.
In the video they say it's as fast as LCD but if you watch closely it clearly isn't. The speed is impressive for E but it's not that fast.
The video also takes shots at the Onyx Boox Max 2, the Paperlike's lone competitor. They highlight some good points but they don't mention the fact that the Max2 costs a fraction of the price and it's far more versatile as an ereader and notepad than it is as a monitor.
They've started selling the Paperlike HD in China, and a few have already turned up on eBay for $1,129 plus shipping.
Dasung E Ink Monitor Paperlike HD