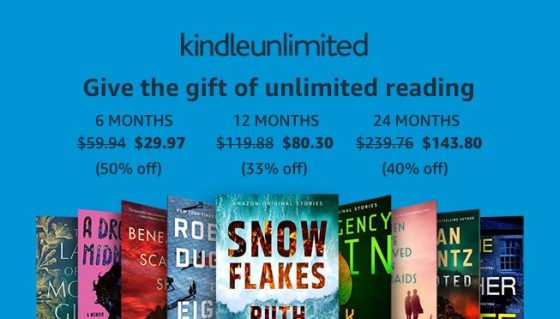 It's time to post another list of 10 free highly-rated Kindle ebooks. If you bought a new Kindle during Prime Day, you can start acquiring free ebooks for it even it hasn't arrived just yet.
Amazon also still has Kindle Unlimited subscriptions on sale for 50% off to get unlimited access to a library of ebooks, audiobooks, and other reading content.
It's also worth noting that Prime members can claim two free ebooks this month from the Amazon First Reads picks.
Please note the free Kindle books listed below are free as of October 17th, 2020. Most of these titles are free for a limited time only and will expire in the next few days or hours before going back to the regular list price.
A good place to find more free Kindle books is on the free bestsellers list at Amazon.
You don't need to own a Kindle ebook reader or a Fire tablet to read these free ebooks; you can use free Kindle reading apps for iPad, iPhone, and Android devices, or use a computer or web browser.
Subscribe to The eBook Reader Blog to keep updated on future free ebooks posts, along with ebook reader news, reviews and how to guides.
Kindle Deals
Kindle Paperwhite 3 – $79 refurbished
50% off Kindle Unlimited Membership – 6 months for $29
Get 2 months of Kindle Unlimited for Free – New and returning subscribers
Amazon First Reads – 2 Free eBooks for Prime Members
Get 20% off New Kindle with Trade-in
10 Free Kindle eBooks
Death's Door: An Edgar Allan Poe Time Travel Novella by April White
Mystery, 4.8 stars, 149 reviews
In the fall of 1849, Edgar Allan Poe disappeared. He was missing for five days, and was then found wandering near Gunnar's Hall in Baltimore, delirious and possibly drunk, wearing strange clothes and carrying a cane. Poe died four days later in a Baltimore hospital, never having regained proper consciousness except to call out for a mysterious person by the name of "Reynolds." Of course Poe was a Clocker, and I knew I would write that story someday. What I hadn't expected was who would find Poe when he stumbled into the 21st Century. Her name is Alexandra "Ren" Reynolds, and she has a secret too.
Angela Marchmont Mysteries by Clara Benson
Mystery, 4.4 stars, 326 reviews
On his return from South Africa, Charles Knox is invited to spend the weekend at the country home of Sir Neville Strickland, whose beautiful wife Rosamund was once Knox's fiancée. But in the dead of night Sir Neville is murdered. Who did it? As suspicion falls on each of the house guests in turn, Knox finds himself faced with deception and betrayal on all sides, and only the enigmatic Angela Marchmont seems to offer a solution to the mystery. This 1920s whodunit will delight all fans of traditional country house murder stories…
Firebolt (The Dragonian Series Book 1) by Adrienne Woods
Fantasy, 4.3 stars, 905 reviews
Dragons. Right. Teenage girls don't believe in fairy tales, and sixteen-year old Elena Watkins was no different. Until the night a fairy tale killed her father.
Now Elena's in a new world, and a new school. The cutest guy around may be an evil dragon, a Prince wants Elena's heart, and a long dead sorcerer may be waking up to kill her. Oh. And the only way Elena's going to graduate is on the back of a dragon of her own. Teenage girls don't believe in fairy tales. Now it's time for Elena to believe – in herself.
Off The Hook by Laura Drewry
Romance, 4.5 stars, 169 reviews
Welcome to The Buoys, a West Coast fishing lodge where love comes in with the tide and where each O'Donnell brother proves to be a great catch! Free agent Liam O'Donnell isn't ready to give up his major league career and move back to the family fishing lodge, but until his agent can find him and his fastball a new team, that's exactly where he finds himself. He needs to help his brothers bring The Buoys back from the disaster their late father left it in or they're going to lose everything…
Sinister Magic by Lindsay Buroker
Fantasy, 4.7 stars, 705 reviews
I'm Val Thorvald, and I'm an assassin. When magical bad guys hurt people, I take care of them. Permanently. This doesn't make me popular with the rest of the magical community—as you can tell from the numerous break-ins and assassination attempts I've endured over the years. But thanks to my half-elven blood, a powerful sword named Chopper, and a telepathic tiger with an attitude, I've always been able to handle my problems with aplomb. Maybe some cursing and swearing, too, but definitely aplomb…
Red Gambit (The Harvesters Series Book 1) by Luke Mitchell
Science Fiction, 4.5 stars, 236 reviews
Against an unholy army of red-eyed aliens, one man will rise to save us all… right after he gets his exosuit back. Jarek Slater was never a hero… Okay, rarely a hero… Fine, SOMETIMES a hero. But never for free… Or, like, never when the dirty bastards didn't kinda deserve it anyway. Look, it's complicated being a decent man in a world ravaged by raknoth invasion and lawless marauders. Or was complicated, at least. Right up until those red-eyed pricks had to go and steal his exosuit, too. You don't steal a man's exosuit. You just don't…
Amelia the Mouse: Inventor Extraordinaire by J. W. Kohler
Children's eBooks, 4.6 stars, 13 reviews
Told in rhythmic rhyme, Amelia the Mouse: Inventor Extraordinaire is the story of an overzealous inventor mouse who never gives up. Always willing to help a friend, Amelia never loses her enthusiasm as she creatively embarks on her inventing journey. If only we could all be so passionate! This story reminds readers young and old that success happens where passion and determination meet. It encourages readers to try and fail, and that each failure is an opportunity to learn. Even when it means inventing a rocket cane for your friend Winston…
Bridgers 1: The Lure of Infinity (Bridgers Series) by Stan C. Smith
Science Fiction, 4.5 stars, 137 reviews
Infinity Fowler has been fighting all her life. As a child, she had to fight for survival. Then she fought professionally. But when humans obtained the technology to bridge to alternate versions of Earth, she saw a chance for a new life. She signed up to become a bridger—an elite fighter and survival expert who protects tourists bridging to alternate worlds. Desmond Weaver is a tourist making a last-ditch effort to complete his PhD in evolutionary biology. He has booked the excursion of a lifetime, a data collection mission to a vastly different version of Earth. If he fails, his career will be over…
A Tuscan Affair by Gudrun Frerichs
Romance, 4.5 stars, 52 reviews
Anna King isn't even dreaming of a new man in her life. Not after a holiday romance went all wrong thirty years ago. Her career, her beautiful home, and most of all her twins are all she wants and needs. Who needs a man if you have fantastic friends? Not this well respected Auckland lawyer.
Vineyard owner Antonio Falcone has only one goal. Fly to Auckland, help his elderly father getting divorced, and zap back home in time for the harvest. That's it. Women? No, no, amore mio, not for this charming Italian. Once bitten, twice shy.
But when the past catches up with them things unravel with lightning speed, and some nasty people raise their heads. And Tuscany? Oh, yes…Tuscany…rolling hills, azure-blue skies, full-bodied wine, delicious food, and a love that will succeed.
Primary Target by Jim Heskett, Nick Thacker
Action Thriller, 4.6 stars, 89 reviews
The Denver Assassins Club has one rule for its members: Step out of line and you become the next target. Ember Clarke is a nimble killer-for-hire. She only accepts jobs to snuff out dirtbags who deserve it, like the serial rapist currently in her crosshairs; the latest of her contracts. But when a rival Club hitman shows up to steal the contract — and put a knife in her back — she has no choice but to add another stiff to her body count. But she quickly learns that the Club will not tolerate killing another member, even in self defense…