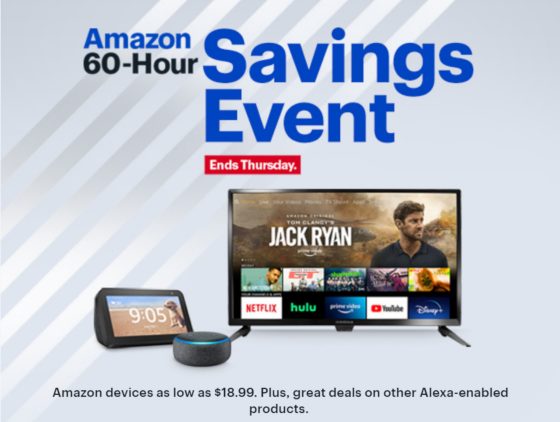 If you missed out on Amazon's Prime Day deals last week, Best Buy is currently having a big sale on Amazon devices with prices as low as they were for Prime Day, with no membership required.
Best Buy does this every year after Prime Day. Amazon seems to have an agreement with them to offer the same deals on Amazon devices at a later date, so now's a great time to get a new Kindle, among other things.
Unfortunately the entry-level Kindle is already sold out unless you can find one at a local store, but Best Buy has the Kindle Paperwhite available to order online starting at $79.99 for the 8GB model. That's $50 off the regular price. The 32GB version is $104.99 ($55 off).
Update: The entry-level Kindle is now available again for $59.99 ($30 off), but shipping is a week out.
The best deal is the Kindle Oasis for $174.99. That's $70 off the regular price, $80 off for the 32GB model. This is only the 3rd time the Kindle Oasis 3 has ever been on sale (once last year for Black Friday and then last week for Prime Day).
They also have the Kids Kindle for $74.99. It normally sells for $109.99.
Fire tablets are on sale as well, including the Fire HD 10 for $79.99 ($70 off). They also have the Fire HD 8 for $54.99 ($35 off).
Best Buy's sales event ends Thursday (10/22) at 11:59 p.m. CT.
Here's the list of Kindle deals that are still available until sold out:
Kindle – $59.99
Kindle Paperwhite – $79.99
Kindle Paperwhite 32GB – $104.99
Kindle Oasis – $174.99
Kindle Oasis 32GB – $199.99
Kindle Oasis 32GB with 4G LTE – $269.99
Kids Kindle – $74.99