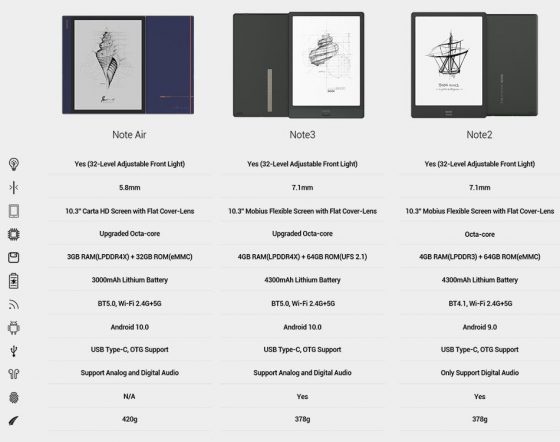 Now that Onyx has started accepting orders for their new 10.3-inch Note Air and Note3 on Amazon, they've posted a Buying Guide on their blog that lays out some of the differences between the Note Air and Note3, and they throw in the Note2 for good measure.
Considering the comparison article comes directly from Onyx, it's a fairly honest assessment. Usually a company isn't going to point out any weaknesses of one of their products but they do acknowledge the Note Air isn't quite on the same level as the Note3.
They also admit that the data transfer speed difference between the old hardware and new is trivial when transferring small files, but is noticeable with large files.
They also point out the differences between the screen on the Note3 and Note Air. Here's a quote from the article:
Note3 has a Mobius flexible screen with AG (Anti-Glare) glass flat cover-lens, whereas Note Air has an HD Carta screen with AG glass flat cover-lens. That's to say, Note3 has a more pen-to-paper feel than Note Air.
I didn't know there was a difference between the front of the Note3 and Note Air. That's an interesting detail I'll be looking to test when I review the Note Air. They go on to say this later, but I absolutely hate the solution:
Although Note Air doesn't provide a much paper-like feel, its in-box screen protector will improve the writing experience.
The problem with that is it's nearly impossible to get Onyx's screen protectors to go on without air bubbles and I don't like how they slightly degrade screen clarity, but they do add a bit more of a textured feel when writing.
One thing they don't mention is the fact that the Note Air has a screen with a fragile glass backplane, whereas the flexible Mobius screen on the Note3 is lighter and more durable than a standard E Ink screen.
In an earlier post Onyx described in detail how they went to great lengths to build the Note Air as strong as possible to protect the screen so the differences in the screen material might not matter much, especially if you're careful with your E Ink devices.
Here's a quote that sums up the Note3:
Therefore, if improved speed matters to you, Note3 with advanced hardware is more suitable.
Onyx must have an ample supply of the Note2 leftover because they keep bringing it up when talking about the Note3 and Note Air. Considering that it's only been on the market for six months that would make sense.
They mention how it's a great time to get a Note2 at a discount (they've been selling the Note2 for $479 on Amazon lately, same price as the Note Air).
I like how they say the Note2 is good if you "don't care much about the trivial differences of Android 9 and 10." I couldn't have said it better myself. The differences are trivial on an Onyx device (perhaps not a full Android device).
They also admit that the Note2 will not be updated to Android 10, but it is supposed to get the new 3.0 software features soon for split screen and screencast support, among other things.
One error on their comparison picture shown above, they seem to have forgotten the Note2 has speakers—it says it only supports digital audio but it has dual speakers like the Note3.
Update: After getting the Note Air and comparing it to the Note2, there is literally no performance difference whatsoever between the new processor and RAM and the old. Maybe under rare circumstances, like when transferring large files, there's a miniscule difference but it's certainly not something worth upgrading for. It's starting to look like Onyx is so desperate for sales they'll say and do anything to get people to buy their products.
Onyx Note Air vs Note2/Note3 Comparison Review