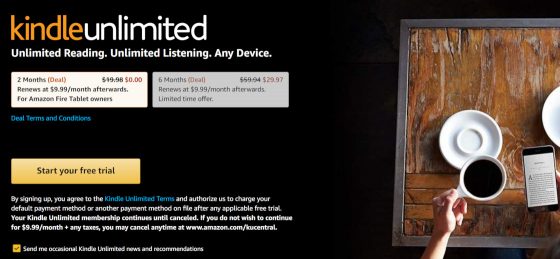 I happened to notice this morning that Amazon has some good offers on Kindle Unlimited at the moment.
The deals probably vary by account so not everyone will have the same deals. In fact I get two separate offers depending on which device I'm using, and I currently don't have an active membership so the offers probably aren't available for those of you that do, but gift deals are still available for active accounts.
To see what offers you have available for your account just head over to the Kindle Unlimited page at Amazon.
When I view the page from my desktop computer, I have the option to claim 2 free months of Kindle Unlimited (the offer says for Fire tablet owners) or I can get 50% off a 6-month membership—the same deal Amazon was offering for Prime Day.
However, when I view the same page from my iPad I get the option to claim a 3-month free trial, but there is no option for 50% off.
Either way it looks like Amazon has some different offers for Kindle Unlimited at the moment, depending on your individual account.
I had redeemed a bunch of free offers in a row and they eventually stopped working, but after a few months now they are available again so it's worth checking if you do the same.
The Kindle Unlimited Gift Deals are still active as well and they don't vary by account and you can even take advantage of the deal if you have an active subscription. The gift deals take 20%-40% off, depending on the length of the term that you choose.
Like I said in an earlier post on how to keep getting deals on Kindle Unlimited, Amazon offers discounts on Kindle Unlimited subscriptions so frequently there really is no reason to ever pay full price. The gift deals are almost always available, and they usually have a free 2 or 3 month offer for new and returning subscribers.