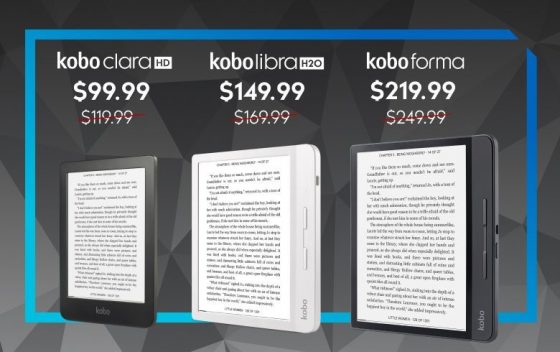 Kobo has their ebook readers on sale for Black Friday and Cyber Monday weekend, and they also have some ebook and audiobook deals as well.
Unlike years past, Kobo is doing more than just taking $20 off their lowest-priced model for Black Friday. This year their base model isn't even on sale, but all of their other models are being discounted.
Kobo's deals vary by country. This is how the deals break down in the US:
eReaders
$20 off Kobo Clara HD
$20 off Kobo Libra H2O
$30 off Kobo Forma
The sale prices are valid on Kobo's website and at Walmart.com.
Kobo's website says the deals are good through November 30th, but the picture promoting the deal says December 3rd so your guess is as good as mine.
eBooks
Shop hundreds of eBooks for $4.99 and under Nov 27 – 30
Audiobooks
Save 30% on a 30-month audiobook subscription – Nov 23 – 30
Subscribers save on 3-credit packs – Nov 23 – 30
Shop select audiobooks for $4.99 or less – Nov 27 – 30
—
If you live outside the US you can find a list of sales links for other countries on this Kobo's Black Friday sales on eBooks, audiobooks, and eReaders article.