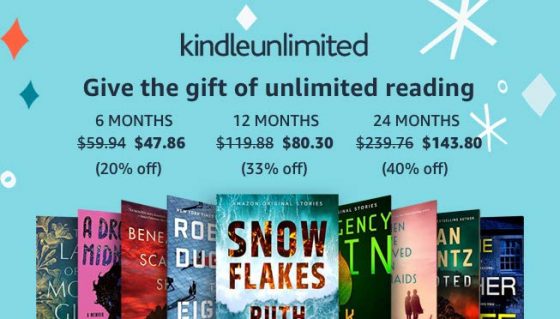 It's time for another roundup of 10 free highly-rated Kindle ebooks to help get the weekend off to a good start.
Amazon has a list of Kindle ebooks on sale as well, and they'll probably have a different list available on Sunday like usual. The Kindle Paperwhite is still on sale for $99 as well.
Please note the free Kindle books listed below are free as of December 12th, 2020. Most of these titles are free for a limited time only and will expire in the next few days or hours before going back to the regular list price.
A good place to find more free Kindle books is on the free bestsellers list at Amazon.
You don't need to own a Kindle ebook reader or a Fire tablet to read these free ebooks; you can use free Kindle reading apps for iPad, iPhone, and Android devices, or use a computer or web browser.
Subscribe to The eBook Reader Blog to keep updated on future free ebooks posts, along with ebook reader news, reviews and how to guides.
Kindle Deals
Get 20-40% off Kindle Unlimited Gift subscription
Kindle Paperwhite 4 – $99.99 ($30 off)
Kindle Paperwhite 4 Leather Covers – 25% off
Kindle Paperwhite 4 Hunger Games Covers – 23% off
Kindle Paperwhite 4 Fabric Covers – 23% off
Amazon First Reads – Free eBook for Prime Members
Get 20% off New Kindle with Trade-in
Deals on Fire Tablets
Fire 7 – $39.99 ($10 off)
Fire HD 8 – $64.99 ($25 off)
Fire HD 10 – $109.99 ($40 off)
Fire 7 Kids Edition – $69.99 ($30 off)
Fire HD 8 Kids Edition – $99.99 ($40 off)
10 Free Kindle eBooks
Burnt Worlds (HMCS Borealis Book 1) by S.J. Madill
Science Fiction, 4.5 stars, 104 reviews
The commander of HMCS Borealis has a problem. Several, actually, the most pressing of which is that he's not even supposed to be in charge. Disaster struck during the testing of a new jump drive, leaving the ship crippled and Lieutenant Dillon the highest-ranking officer still alive. At the far edge of the galaxy, beyond any hope of rescue, it's up to Dillon to pull the survivors together and get the ship home. As he struggles with the unexpected burden of command, things go from bad to worse…
Manufactured Witches by Michelle Rene
Fantasy, 4.4 stars, 73 reviews
The Dust Bowl uprooted a lot of families and orphaned even more children. No one knows this better than Nat, a teenager who rides the rails from town to town looking for work. After helping a girl accused of witchcraft, Nat stumbles upon a home for wayward children run by a vibrant woman named Camille. She takes in children who have been thrown away and teaches them how to use their untapped potential to do extraordinary things…like magic…
One Woman's Junk by JB Lynn
Mystery, 4.4 stars, 260 reviews
Letty wanted her ashes scattered under a full moon at the beach, but she couldn't have known about the lightning strike….or did she? When their beloved godmother dies suddenly, the Concordia sisters converge on the beach town of Sarasota, Florida to mourn the passing of the woman who raised them. While there, they must scatter her ashes as instructed and decide what to do with her consignment shop, One Woman's Junk…
Eye for Eye: (Talion Series, Book 1) by JK Franko
Mystery, Thriller & Suspense, 4.4 stars, 275 reviews
Roy and Susie are the perfect couple, an ideal family living a fairy-tale life… until their teenage daughter is senselessly killed. Just as they're managing to put that tragic loss behind them, a complete stranger approaches Roy in a bar with a drunken proposal—he invokes their daughter's memory to ask Roy to kill a man. All is not as it seems, however, and Roy and Susie soon find themselves navigating an intricate web of deception, betrayal, and revenge. Can Roy and Susie outwit their hidden enemies? And what secrets lie buried in their past that could destroy them?
The Ghost of Christmas Past by Angie Fox
Mystery, 4.7 stars, 525 reviews
Verity is ready to deck the halls, jingle some bells, and maybe, just maybe have a merry Christmas with her boyfriend's stuffy family. Truly, if she doesn't extend the proverbial olive branch to the overbearing Wydells, she's afraid she'll hit them over the head with it. But when her boyfriend's mother pulls a shocking stunt, Verity finds herself with a big decision to make. And if that's not enough, there's an unexpected guest at her door. It's the ghost of the woman who helped rescue Verity's pet skunk three years ago that very night. And now she's there to change Verity's life as well.
Missing Grace by S.L. Scott
Romance, 4.5 stars, 257 reviews
Move on with your life, they said. Forget her, they said. But how could Ben Edwards forget the woman who was supposed to be his forever? When Grace Stevens disappeared–without a word, without a trace–she took half his soul with her. Despite the heartbreak, Ben tried. He tried to take their advice by pursuing his career. He tried to find fulfillment in his work. He tried to find peace. Grace had been the love of his life…
The Scot's Betrayal (Highland Swords Book 1) by Keira Montclair
Historical Fiction, 4.7 stars, 217 reviews
Destiny sent the famous warrior Alexander Grant three grandsons on the same day, at the same time. Or so the story goes. Alasdair Grant, one of the three, struggles to believe he has any special purpose. The future has never seemed bleaker for Scotland—or for Alasdair's own family. And yet, he cannot help but wonder if fate has reached for him at last when his grandsire sends him to MacLintock Castle to help Emmalin MacLintock, the very lass who has possessed his thoughts…
Terra Nova by Richard Fox, Josh Hayes
Science Fiction, 4.5 stars, 119 reviews
Terra Nova. The promised world is humanity's new home, safe from the threats of a dangerous galaxy, where veterans of a long war could live in peace. The promise was a lie. Chief Katherine "Kit" Carson, of the elite Pathfinder Corps, joins the mission as a last-minute replacement, hoping to put a spotty past behind her and build a new life on a brave new world. The expedition arrives on Terra Nova, expecting to join the first wave of colonists, instead they find abandoned cities and are soon faced with a new, terrifying enemy humanity has never encountered before.
Nightmare City by P.S. Newman
Fantasy/Horror, 4.7 stars, 40 reviews
Ever since a shift in reality twenty years ago, people's dreams and nightmares come alive, spreading chaos and destruction. Monsters ravage cities, bottomless chasms split roads, and gold rains from the sky – the possibilities are limitless, unpredictable, and often deadly. Eden Maybrey is a hunter of these "shades". When a friend tasks her with tracking down and eliminating an evil shade, the hunt threatens to expose Eden's deepest, darkest secret…
Left Hanging by Cindy Dorminy
Romance, 4.3 stars, 145 reviews
As a nurse and single mom, Darla Battle hides her loneliness behind a smile. But when she discovers that the new cute doctor everyone is talking about is her daughter's father, she knows she needs to keep her distance from the man who abandoned her and their child, Stella. When Theo Edwards returns to Nashville to finish his medical training, he never expects to run into Darla, a girl he spent one night with seven years ago. For reasons he can't fathom, her attitude toward him is frosty, but he still hopes to ignite the spark they once felt…