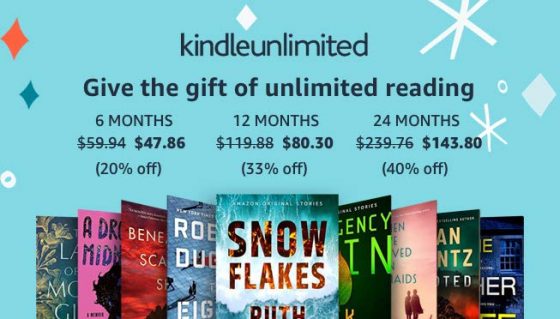 If you're looking for a last-minute gift idea, Amazon has Kindle Unlimited gift subscriptions available for 20-40% off the regular monthly price.
Kindle Unlimited is Amazon's ebook subscription service that provides unlimited access to a library of over 1 million ebooks, including magazines, audiobooks, and comic books.
I was hoping they would bring back the 50% off deal they had for Prime Day but so far they just have the usual 20-40% off deals. The percentage off depends on the length of the membership duration.
This is how the deal works:
6 months – $47.86 (20% off)
12 months – $80.30 (33% off)
24 months – $143.80 (40% off)
The subscription can be sent to someone as a gift, and if it's something they decide they don't want they can exchange it for an Amazon gift card. The content can be accessed using a Kindle app on a phone or tablet, or with a Kindle e-reader or Fire tablet.
The gift deals can also be purchased and applied to your own active Kindle Unlimited subscription to save on the monthly fee—it will extend the term of your current subscription.
Also, some accounts are eligible for 2 free months of Kindle Unlimited, but that's not something that can be gifted and is only for new or returning subscribers.