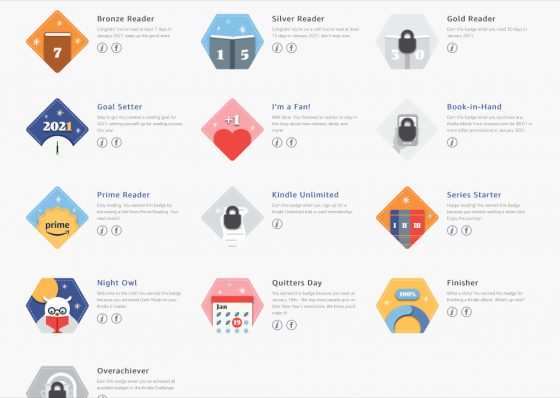 Last month through January Amazon held the first ever Kindle Challenge where participants could complete various Kindle-related goals and tasks to earn a $5 ebook credit (or just bragging rights for some folks).
I was curious to see if they'd have a new Kindle Challenge for February or if it was just going to be a one-time thing. Unfortunately there isn't a challenge for February but it sounds like it's something they'll be doing again in the future.
On the page for the January Kindle Challenge there's a note that says, "Sign up to receive email notifications about upcoming reading challenges."
I usually don't care about earning achievements in games and apps because they serve no purpose in most cases, but the $5 ebook credit was just enough to spark my interest in participating in last month's Kindle Challenge.
I'll admit I ended up checking the Kindle Challenge page more than I would've expected to see if any new badges had been activated, and that made me want to complete more challenges.
In the end I think it was an effective promotion on Amazon's part, but I felt like the execution could have been a bit better. The daily total reading days counter was always a few days behind, and some of the badges took several days to activate after completion.
Also having different-shaped badges could have been explained better, and it's weird how some people got different challenges than others. There was also some confusion over why some people got a $5 ebook credit for earning four diamond-shaped badges and others didn't—perhaps having a Prime membership was a factor.
Either way I think they could expand on the challenges more to make completing all of them more difficult, and they should offer a reward for doing so. Just getting four diamond-shaped badges was too easy. It would also add another level if they had a drawing to giveaway free Kindles and accessories to those that complete the challenges.
Did you participate in the January Kindle Challenge? Would you like to see Amazon come out with new Kindle Challenges periodically?