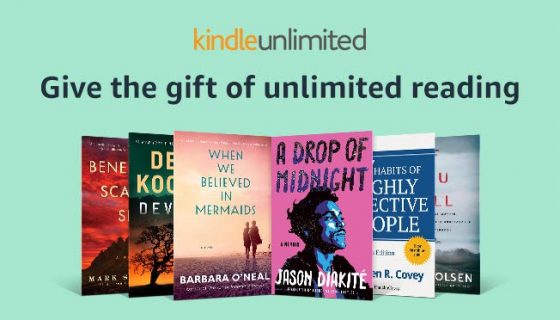 It's time for another roundup of 10 free highly-rated Kindle ebooks to help get the weekend off to a good start.
As noted earlier in the week, Amazon has the Kindle and Kindle Paperwhite on sale for Valentine's Day, along with the Kids Kindle.
Please note the free Kindle books listed below are free as of February 6th, 2021. Most of these titles are free for a limited time only and will expire in the next few days or hours before going back to the regular list price.
A good place to find more free Kindle books is on the free bestsellers list at Amazon.
You don't need to own a Kindle ebook reader or a Fire tablet to read these free ebooks; you can use free Kindle reading apps for iPad, iPhone, and Android devices, or use a computer or web browser.
Subscribe to The eBook Reader Blog to keep updated on future free ebooks posts, along with ebook reader news, reviews and how to guides.
Kindle Deals
Kindle – $64.99 ($25 off)
Kids Kindle – $79.99 ($30 off)
Kindle Paperwhite – $94.99 ($35 off)
Kindle Paperwhite 32GB – $119.99 ($40 off)
Get 20-40% off Kindle Unlimited Gift subscription
Amazon First Reads – Free eBook for Prime Members
Get 20% off New Kindle with Trade-in
10 Free Kindle eBooks
Expired Refuge by Lisa Phillips
Mystery & Suspense, 4.4 stars, 177 reviews
Mia Tathers is an ATF Special Agent. It's not like she needs Conroy to protect her. However, when it becomes clear someone is recreating her biggest mistake, Mia has to face her own inability to forgive Conroy for what he took from her. It's the only way she'll stay alive. In this town, Police Lieutenant Conroy Barnes is the one who fixes problems. When a blast from the past shows up, bringing danger with her, he vows to keep her safe. But the clock has expired on her refuge. Death is knocking, and Conroy is determined not to let it in.
Deep Shadow by Nick Sullivan
Thriller, 4.4 stars, 250 reviews
In the turquoise waters of the Caribbean, something lethal is on the move. Scuba divers travel from all over the world to visit the little island of Bonaire, with its crystal-clear waters and a host of beautiful marine life. After three years in the "Divers Paradise", divemaster Boone Fischer thought he'd seen it all; but on a routine afternoon dive, he spots something that will turn his tranquil life upside down.
Bishop's Honor by A. R. Shaw
Thriller, 4.4 stars, 562 reviews
In the year 2030, a mini ice age hits earth like it did in 1645.
A war-weary community scrambles to survive.
A recluse veteran must take charge or most will die from the effects of severe weather, but also from the deeds of man himself.
The Healthy Air Fryer Cookbook by Chef Effect
Cookbook, 4.4 stars, 926 reviews
Healthy living has never been as important as it is now. A highly stressful lifestyle coupled with the compromises you make in your food choices can result in poor health and diseases that can severely limit your ability to enjoy life. Unfortunately, some of the most delicious foods around, such as fried chicken and French fries, are not good for your waistline nor for your overall well-being, since cooking them requires vast amounts of oil…
I Love You Through Winter, Spring, Summer, and Fall by Junia Wonders
Children's eBooks, 4.5 stars, 56 reviews
I love you. Every child longs to hear these words. And every child needs to hear these words. Here is a children's book that celebrates LOVE − the unconditional love that you have for your little one, and how that love continues to grow and expand through the seasons of your child's life. Be it winter, spring, summer, or fall, through all the ups and downs, and all the changes, big and small, a parent's love simply knows no bounds…
Bells, Tails & Murder: A Cozy English Animal Mystery by Kathy Manos Penn
Mystery, 4.5 stars, 268 reviews
Recently widowed Leta Parker desperately needs a change of scenery. Pursuing her lifelong dream of retiring to the Cotswolds, she leaves her soulless corporate hustle in Atlanta and moves to England with her talking dog and cat companions—Dickens and Christie. But she's barely begun making new friends when she stumbles across her housekeeper's body…
No Man Can Tame by Miranda Honfleur
Fantasy, 4.5 stars, 792 reviews
After a failed courtship in an ally kingdom, twenty-one-year-old Princess Alessandra returns home to a land torn apart by mutual hatred between the humans and the dark-elves. The "Beast Princess," as Aless is known by courtiers, confidently sets her mind to ways of making peace, but her father has already decided for her: she is to marry one of the mysterious and monstrous dark-elves to forge a treaty, and go on a Royal Progress across the kingdom to flaunt their harmonious union…
Flow: A Young Adult Dystopian Novel by Clare Littlemore
Fiction, 4.6 stars, 151 reviews
In a world where sea levels have risen to unimaginable levels, an isolated society exists. Life in The Beck is tough. Floodwaters constantly threaten existence, and rules must be followed to ensure the survival of the entire society. Sixteen-year-old Quin knows the Governor is hiding something. When she receives a sudden promotion to the Patrol Sector, she hopes the extra freedom will help her expose his lies…
RECOGNITION: Oxygen Debt by Mia Gold
Science Fiction, 4.9 stars, 84 reviews
IN 2112, DYSTOPIA IS UPON US, and the United Nations Authority is trying to stop energy and technology behemoth GIATCOM from destroying society once and for all. At the vortex of this futuristic struggle is twenty first-century inventor Dr. Ben Richards, who created a way to harness wind power, a clean and renewable energy that could have changed the course of humanity if he hadn't died under mysterious circumstances…
Midnight Rose by Dani Hart
Paranormal Romance, 4.4 stars, 527 reviews
Abigail Rose's life was as predictable as the tides rising and falling, until Wes Hunter returned to Sandpoint. Then, the impossible became possible, the predictable became unpredictable, and those monsters became more than friends. Wes would do anything to keep Abigail safe, and Abigail would leave everything behind to save everyone she loves. A suspenseful romance, blurring the lines between fantasy and reality.