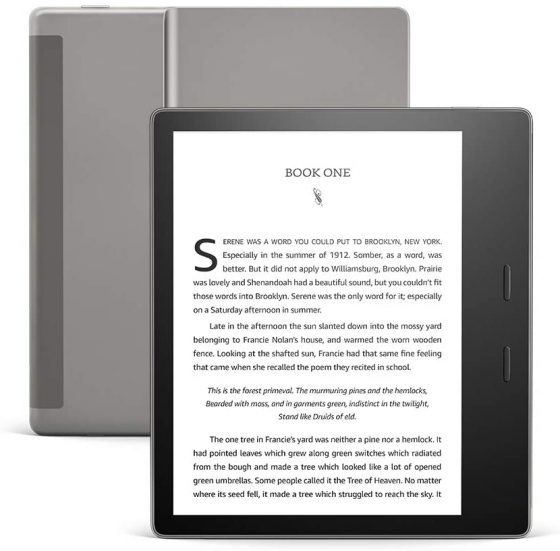 Now is a good time for another list of 10 free highly-rated Kindle ebooks to close out the first week of March.
Woot also has a couple of Kindles on sale, starting at $39, and Amazon still has the 20% off deal when buying two Kindles, which includes the Kindle Oasis.
Please note the free Kindle books listed below are free as of March 6th, 2021. Most of these titles are free for a limited time only and will expire in the next few days or hours before going back to the regular list price.
A good place to find more free Kindle books is on the free bestsellers list at Amazon.
You don't need to own a Kindle ebook reader or a Fire tablet to read these free ebooks; you can use free Kindle reading apps for iPad, iPhone, and Android devices, or use a computer or web browser.
Subscribe to The eBook Reader Blog to keep updated on future free ebooks posts, along with ebook reader news, reviews and how to guides.
Kindle Deals
Get 20% off when buying 2 Kindles – Deal ends March 31st
Kindle 8 – $39
Kindle Oasis 2 – $129
Get 20-40% off Kindle Unlimited Gift subscription
Get Kindle Unlimited Free for 2 Months – New and returning subscribers, terms vary by account
Amazon First Reads – Free eBook for Prime Members
Get 20% off New Kindle with Trade-in
10 Free Kindle eBooks
Clean Kill (Bloodline Book 1) by Adam Nicholls
Thriller, 4.3 stars, 35 reviews
When Blake Salinger went to work that day, everything seemed normal. His life was structured and routine. All he wanted was a little excitement–he just never expected to be arrested for his own father's murder. Caught between the lies of corrupt cops and a silver-haired stranger, Blake flees across Los Angeles to learn the truth of his father's mysterious past. The deeper he goes, the bigger the lies become. The only certain thing is that he can't run forever.
Orphan Train Escape by Rachel Wesson
Fiction, 4.6 stars, 1632 reviews
Bridget Collins is in dire straits – she needs to get out of New York, fast. With two young siblings under her wing, her options are limited. Her priest sends her as an outplacement agent on the orphan trains that run from New York to out west. With almost forty orphans under her care, she's relieved fellow and more experienced outplacement agent Carl Watson, is there to guide her. But Carl is dealing with his own trauma and finds it difficult to handle the pain the orphans are dealing with.
The Stolen Kingdom: An Aladdin Retelling by Bethany Atazadeh
Young Adult, 4.6 stars, 178 reviews
Princess Arie never expected to manifest a Jinni's Gift. When she begins to hear the thoughts of those around her, she hides it to the best of her ability. But to her dismay, the Gift is growing out of control. When a neighboring king tries to force her hand in marriage and steal her kingdom, discovery becomes imminent. Just one slip could cost her throne. And her life. A lamp, a heist, and a Jinni hunter's crew of thieves are her only hope for removing this Gift–and she must remove it before she's exposed. Or die trying.
Go Dwarf Yourself by Martha Carr, Michael Anderle
Horror Comedy, 4.6 stars, 324 reviews
Johnny Walker was a good bounty hunter in his day. James Brownstone good. But everybody has a line. Johnny found his when his teenage daughter was murdered. Who was the killer? Even Johnny couldn't figure it out. Everybody's favorite Dwarf retreated to his cabin in the swamp with his two hound dogs by his side, and retired with his guns, his whiskey and his memories. Except magical monsters weren't done with him… yet.
Queen of Klutz by Samantha Garman
Romantic Comedy, 4.6 stars, 921 reviews
I started my day with a boyfriend and a job. I ended my day with a bottle of tequila. I'll let you connect the dots.
Somehow, I wound up working as a waitress at an Italian restaurant. I have no idea what I'm doing. And I'm not just talkin' about life.
This should be interesting.
Perils in Provence by Carolyn L. Dean
Mystery, 4.6 stars, 57 reviews
Jennifer was happy working as a baker at the Ravenwood Inn, but when fate comes calling in the form of Gable Landon, she's ready to jump at the new career he offers. Soon she's globetrotting from Oregon to Bruges, then on to Provence to assess a rundown property her boss might want to buy. The charm of southern France and its food and landscape is almost intoxicating, and it doesn't hurt that she's made a new friend, a French bulldog named Orly. What Jennifer hadn't expected, though, was stone cold murder.
The Song of the Sirin by Nicholas Kotar
Fantasy, 4.6 stars, 152 reviews
Voran, a young warrior of Vasyllia, lives in a dying world. As blight ravages the countryside and darkness covers the sun, he can't avoid hearing the rumors of an ancient spirit that devours souls. He feels powerless to fight the oncoming devastation until a mythical creature entrusts him with a long-forgotten song. Legend has it that such a song can heal the masses, overthrow kingdoms, and raise humans to divine beings…
Legacy by aura Pavlov
Romance, 4.6 stars, 130 reviews
Ford
I don't have time for distractions.
I have a billion-dollar company to run. A father to grieve.
A legacy to fulfill.
Harley DeLuca is not my type.
She's snarky.
She's stubborn.
And she's the most beautiful woman I've ever seen—even in her ridiculous grungy tennis shoes.
I can't get enough of her.
Blue Guardian by S.J. Madill
Science Fiction, 4.4 stars, 41 reviews
It's been forty years since the end of the war. Despite struggling with millions of refugees, humanity looks to the future. Their uneasy allies — the Palani — look to the past, and remember the vast empire they once ruled. New Fraser is a human colony deep in Palani space. Once a thriving Palani world, it's now an empty ruin, given to the humans to establish a settlement. The new colonists are wary of their alien hosts, even as they try to build a new life…
Death by Chocolate by Sally Berneathy
Mystery, 4.5 stars, 1584 reviews
Lindsay loves chocolate. It tastes good, it makes her feel good, it never cheats on her like her almost-ex-husband. It's her best friend. But someone wants her dead and uses her weak spot—chocolate—to try to murder her. Lindsay's only secret is the recipe for her chocolate chip cookies, but she is surrounded by neighbors with deadly secrets. Suddenly she finds herself battling poisoned chocolate, a psycho stalker, and a dead man who seems awfully active for a corpse…