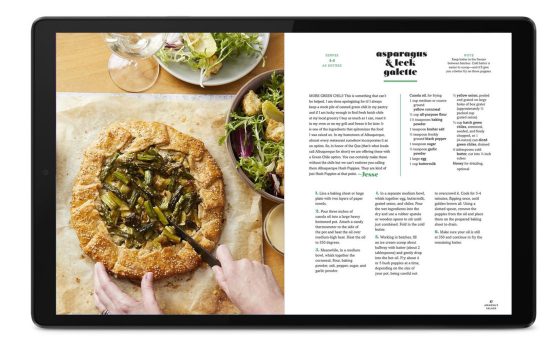 Barnes and Noble has released a new Nook Tablet that was designed by Lenovo. It's another low end model like the last Nook Tablet, and it has an even lower resolution screen.
The new Nook Tablet is available to order from Barnes and Noble's website for $129 with free shipping.
The low price tells you all you need to know about the specs.
They downgraded the screen resolution on this model to 1280 x 800. That's only 149ppi! That's as low as it gets and it's supposed to be a tablet designed for reading? Even the $49 Fire tablet has 171ppi. The Fire HD 10 has a 224ppi screen and it's only $20 more than the new Nook, and it often goes on sale for $99.
I just don't get it. Are Barnes and Noble customers the type of people that want to own one of the cheapest tablets available? Offering low end tablets makes sense for places like Walmart and Amazon, but does it make sense for Barnes and Noble? Are people that spend the least on a tablet the type of people that are going to then spend a lot on digital content in the form of Nook ebooks and audiobooks?
Why not offer something a bit nicer like the old Nook HD+ and Nook HD? At least they had nice high resolution screens suitable for reading. The Nook HD+ was released back in 2012 with a gorgeous 256ppi screen. What has happened to Nook tablets? Now B&N just rebrands the cheapest, lowest-specced tablet they can find.
On the plus side of things, the new Nook Tablet runs Android 10 and it comes with Google Play support to install Android apps. It has an octa-core CPU, a USB-C port, Wi-Fi, Bluetooth, GPS, an FM radio, 32GB of storage, and a microSD card slot. It also has an 8MP rear camera, a 5MP front camera, and it's a bit lighter than other 10-inch tablets at 420 grams.
It only has 2GB of RAM though. That's really not enough for an Android tablet in 2021—it's going to be laggy. Even Onyx's E Ink ereaders come with at least 3GB now, except the 6-inch Poke, which has 2GB.
What do you think of the new Nook Tablet? Would you buy one for $129? Or would you rather spend more on something a bit nicer?