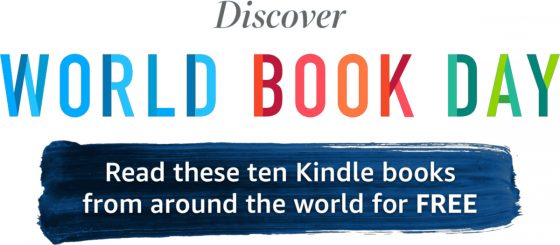 Amazon is doing their annual World Book Day promotion again, where you can get 10 free award-winning Kindle ebooks that were written by international authors and then translated to English.
The Kindle ebooks are free on Amazon's international websites as well, and the ebooks will remain free through April 24th, 2021.
A good place to find more free Kindle books is on the free bestsellers list at Amazon.
You don't need to own a Kindle ebook reader or a Fire tablet to read these free ebooks; you can use free Kindle reading apps for iPad, iPhone, and Android devices, or use a computer or web browser.
Subscribe to The eBook Reader Blog to keep updated on future free ebooks posts, along with ebook reader news, reviews and how to guides.
Kindle Deals
Save 20% off select Used Amazon Devices offered by Amazon Warehouse
Kindle – $39.99 refurbished – 4/17 only
Kindle – $59.99 refurbished
Kindle Paperwhite – $89.99 refurbished
Kindle Oasis 2 Wi-Fi + Cellular – $189.99
Get 20-40% off Kindle Unlimited Gift subscription
Get Kindle Unlimited Free for 2 Months – New and returning subscribers, terms vary by account
Amazon First Reads – Free eBook for Prime Members
Get 20% off New Kindle with Trade-in
Free Kindle eBooks
Instead of posting the usual list of 10 free Kindle ebooks, head over to Amazon's World Book Day page for the list of free titles since they already have the list posted. Plus here's a list of 5 bonus freebies (they could expire at anytime):
Skeptic in Salem by Fiona Grace
Mystery, 4.5 stars, 235 reviews
When Mia Bold, 30, learns that the pharmaceutical company she works for only cares about money, she quits on the spot, walking away from a high-powered career. Worse, her long-time boyfriend, instead of proposing as she expected, decides to break up with her. Mia's true passion lies in her own podcast, devoted to debunking the occult and shining light on the truth. The daughter of a con-man father, Mia feels a moral responsibility to the truth, and to spare others from being conned…
Peaceful Slumber by Nikki Lynn Barrett
Paranormal Romance, 4.7 stars, 130 reviews
I was somewhat normal once. Until I died. It was only for a few minutes, but ever since then, I can see ghosts. The first time I see her is in the cemetery, wearing a blood stained wedding dress. No one else knows she exists. I have no idea how to help her or why I chose to, but she's here now. The one person who makes me feel alive for the first time in ages is a spirit trapped in her own version of hell with no recollection of her life or death…
One Last Step by Sarah Sutton
Mystery/Suspense, 4.4 stars, 1009 reviews
Two hikers go missing along the Appalachian Trail, leaving only a bloodstained forest behind them, and when another hiker collapses on someone's porch in New Hampshire, murdered by crossbow, the local police realize they have a serial killer on their hands––and need to call in the FBI. FBI Agent Tara Mills is young, brilliant and new to the force. With a promising career in front of her, she faces the ultimate test when she is assigned the case…
Risk Be Damned by Natalie Grey, Michael Anderle
Fantasy, 4.6 stars, 140 reviews
When you have made a point of not risking love for a thousand years… You wonder if the promise is worth the pain… Sometimes… Risk Be Damned, your heart doesn't ask permission. Stephen, Michael's brother, is charged with finding out what is happening to Wechselbalg in Europe and uncovers a sinister plot. Jennifer is working this operation with him. While the Queen is watching from above…
Lifting the Veil by Kate Allenton
Romance, 4.4 stars, 98 reviews
Psychic? Not if I can help it. I took a birthday trip to Salem on Halloween night, and now nothing will ever be the same. I have a haunting secret.
One I can't tell my family or friends without them locking me up in some loony bin. So, for now, I remain quiet and pretend not to get visions or see the ghosts that are haunting me. I pretend to be normal in this new boring job. Until one day, I can't. And this time, there's a witness. Regardless of how sexy he is or how he makes my heart skip a beat, he believes I'm certifiable…