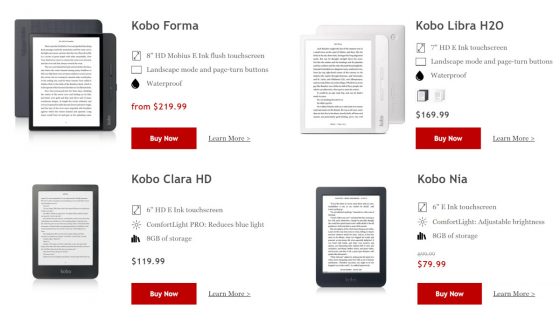 Kobo is currently running a Mother's Day sale on their most expensive and least expensive ebook readers, with up to $30 off in the US and Canada.
The 8-inch Kobo Forma is marked down to $219 from $249. They rarely put the Kobo Forma on sale so now is a good time to get one regardless if it's a gift or not.
Kobo also has the 6-inch Kobo Nia on sale for just $79. That's $20 off the regular price and I think this is only the second time it's been on sale since it was released last summer (at least in the US).
The Kobo Clara HD is still available for $89 refurbished as well. I think it's a better buy than the Nia because the Clara HD has a better screen (300ppi vs 212ppi) and an upgraded frontlight with adjustable color temperature, whereas the Nia just has a cool-colored frontlight.
There's also a deal at Newegg on a refurbished Kobo Libra for $113. The Libra is Kobo's 7-inch model that sells for $169 new.
Kobo's ereaders are available to purchase directly from Kobo's website with free shipping. The discounts aren't showing up at Walmart yet, but they usually match Kobo's sale prices so they should update the listings at some point.
See here for more info and reviews about Kobo eReaders.