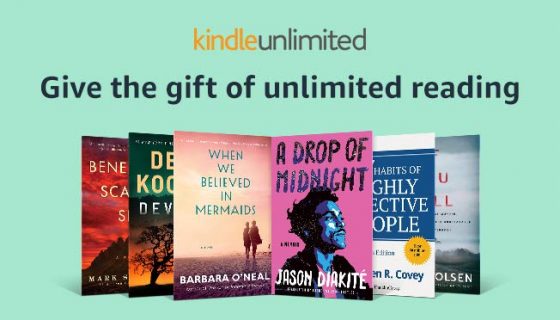 With Mother's Day coming up tomorrow, now is a good time for a reminder about Amazon's Kindle Unlimited gift subscriptions that are available for 20-40% off the regular monthly price.
This isn't a new deal but Amazon doesn't advertise it and it's nearly impossible to find. In fact if I didn't have the page bookmarked I would have no idea how to find the offer on Amazon's website.
It's a good deal if you're are looking for a last-minute gift idea, or if you just want to extend you own Kindle Unlimited subscription.
For those that are wondering what Kindle Unlimited is it's Amazon's ebook subscription service that provides unlimited access to a library of over 1 million ebooks, including some magazines, audiobooks, and comic books.
Access to Kindle Unlimited normally costs $9.99 per month, but these gift deals take 20-40% off, depending on the length of the subscription.
This is how the deal works:
6 months – $47.86 (20% off)
12 months – $80.30 (33% off)
24 months – $143.80 (40% off)
Amazon's Kindle Unlimited library can be accessed using a Kindle app on a phone or tablet so owning an Amazon device isn't required, but you can use Kindle e-readers and Fire tablets too of course. If you give a subscription to someone as a gift they can opt to exchange it for an Amazon gift card if they don't want it so either way it's a pretty safe gift idea.
These gift deals can be applied to your own active Kindle Unlimited subscription as well if you want to save on the monthly fee.
Some accounts are also eligible for 2 free months of Kindle Unlimited, but that's not something that can be gifted and is only for new or returning subscribers.