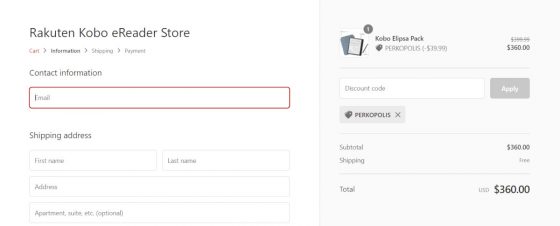 If you're looking to get a Kobo ebook reader at a discount, there's a coupon code circulating online that takes 10% off your purchase when buying directly from Kobo's website.
The coupon code is PERKOPOLIS. Just enter the code during checkout to get 10% off your Kobo ereader purchase.
The only model the code doesn't work on is the Kobo Clara HD, but as of this writing it works with all of Kobo's other models, including the new 10.3-inch Kobo Elipsa that gets released later this month.
I've been hesitant to post about this coupon code because it seems like a mistake. Why would Kobo take 10% off a new product that hasn't even been released yet? It doesn't make sense but people have been successfully using this code for nearly 3 weeks now so Kobo has had plenty of time to disable it if they wanted to but they still haven't.
I was able to place an order for the new Kobo Elipsa last week using the code with no issue. It takes the price down to $360 in the US, and that's a great price for a large-screen E Ink device.
Kobo could disable the coupon code at anytime so you might as well use it while you can. They haven't been doing very many sales lately, but at least you can get an extra 10% off this way.