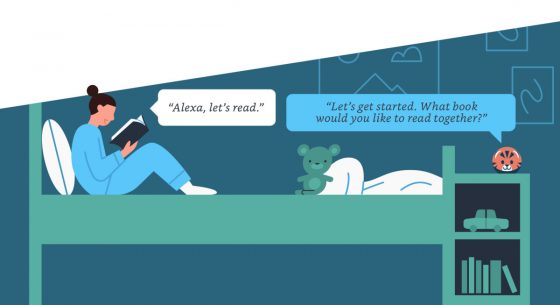 Amazon has introduced a new Alexa feature called Reading Sidekick that works in conjunction with an Amazon Kids+ subscription to read books along with children.
Here's more about how the feature works from Amazon's Reading Sidekick landing page:
"With Reading Sidekick, Alexa and your child will take turns reading. She will listen, help if your child struggles, and encourage when they succeed."
An Amazon Kids+ subscription is required to use the new feature, which currently costs $2.99 per month or $24.99 per year (for Prime members), and you'll also need a kids-enabled Echo device.
Not all books are supported, of course, but there's a list of some of the books on the Reading Sidekick page. They say that "hundreds" of children's books are supported for kids ages 6-9. The feature can be used with both physical books and ebooks.
It's an interesting idea but I wonder how parents will feel about it. Helping kids learn to read is always a good thing, but having Alexa read to your kids seems kind of strange. What do you think?