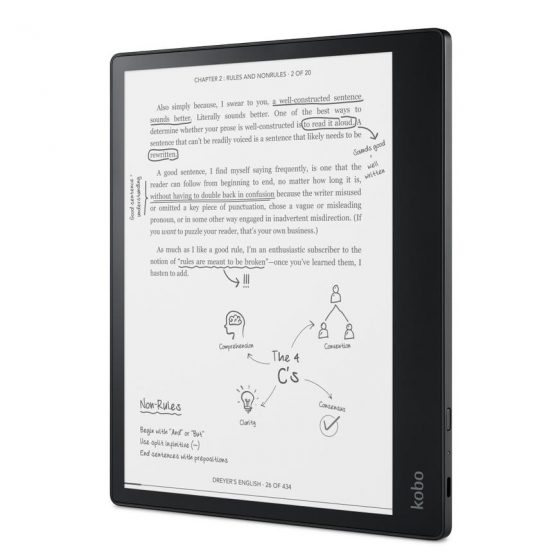 The Kobo Elipsa was released a couple weeks ago and I've been working on putting together a review, but I've found that some of the new features aren't explained very well (or at all).
One thing that's odd about Kobo is they don't include a user manual with their devices, and they don't provide one to download either. From the "More" menu on Kobo ereaders there are a few help guides but they're very basic.
There's a lot more information to be found on Kobo's help website where you can find tutorials with pictures explaining most of the features .
Here are quick links to some of the help articles for the Kobo Elipsa:
Kobo Elipsa Help Guides
Kobo eReader User Guide – An online user guide for Kobo's ereaders (why they don't include this information on their devices in the form of a PDF manual is anyone's guess).
Writing Features – This page explains how the note-taking and highlighting features work within ebooks and PDFs, including how to view and export your handwritten notes. You can write directly on ePub, Kobo ePub (.kepub), and non-DRM PDF files.
Notebooks Guide – On this page you can find detailed information about how the basic and advanced notebook features work, with descriptions on how to use all the features and how to export notes and notebooks to Dropbox and/or your computer. There's lots of useful information on that page.
Writing Gestures – A list of gestures that can be used to speed up the editing process when using an Advanced notebook.
Dark Mode – The Elipsa is the only Kobo model with official Dark Mode support to invert colors for white text on a black background. The option is located in the Reading Settings menu.
Change Stylus Tips – Shows how to inspect the tip for wear and how to replace the stylus tip.
Check Battery Level – Tap the battery icon to check the battery status of the stylus. The Kobo Stylus uses one AAAA battery.
Hit the main user guide above for more help articles and tutorials; these are just some of the new topics they added specifically for the Kobo Elipsa.