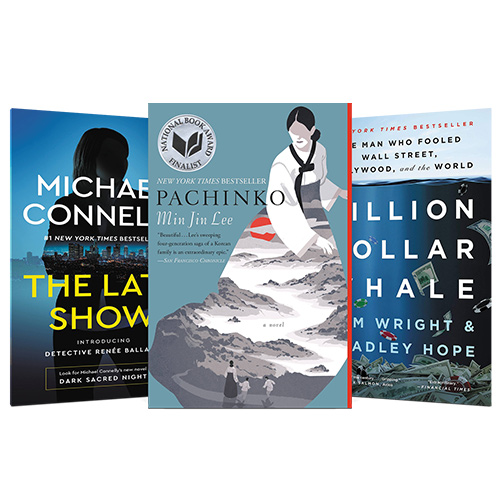 It's time for another roundup of 10 free highly-rated Kindle ebooks to help get the month of August off to a good start.
Amazon also has a list of Kindle ebooks on sale today only for one of their Deals of the Day, but other than that there aren't any notable Kindle-related sales to speak of at the moment.
Please note the free Kindle books listed below are free as of August 1st, 2021. Most of these titles are free for a limited time only and will expire in the next few days or hours before going back to the regular list price.
A good place to find more free Kindle books is on the free bestsellers list at Amazon.
You don't need to own a Kindle ebook reader or a Fire tablet to read these free ebooks; you can use free Kindle reading apps for iPad, iPhone, and Android devices, or use a computer or web browser.
Subscribe to The eBook Reader Blog to keep updated on future free ebooks posts, along with ebook reader news, reviews and how to guides, or you can follow this site on Facebook and Twitter to get updates.
Kindle Deals
Top Kindle eBooks for $4.99 or less – 8/1 only
Get 20-40% off Kindle Unlimited Gift subscription
Kindle Unlimited Promos – Offers vary by account
Amazon First Reads – Free eBooks for Prime Members
Get 20% off New Kindle with Trade-in
10 Free Kindle eBooks
The Bequest by Hope Anika
Romance, 4.6 stars, 152 reviews
Cheyenne Elias has inherited a child. A boy she doesn't know and doesn't particularly want; a boy whose mother was once Cheyenne's most hated person in the world. There are a million reasons to walk away: her anger, her past, her certainty that there is nothing benevolent in this act by a woman who almost killed her. But abandoning the boy to a system she barely survived is not an option…
Blood in the Bayou by C.M. Sutter
Thriller, 4.3 stars, 2926 reviews
On her first assignment since her promotion to SSA status in the Serial Crimes Unit of the FBI, Jade Monroe and her new partner, Lorenzo DeLeon, are tasked to southern Louisiana, where disturbing discoveries have been made. Human bones have been found in numerous sites deep in bayou country, and the locals aren't too excited about having outsiders poking around in their business…
Cross Her Heart by Jo Noelle
Historical Romance, 4.8 stars, 79 reviews
Ida Turner was supposed to pass along her father's directions to the trail boss. Instead, she packs her wagon with silk dresses and joins the cattle drive up the Chisholm Trail from Windward, Texas, to the railhead in Kansas. Contrary to what she thought would be a grand adventure, the trail is fraught with dangers, threatening her life. Robert Conley learned about the change of plans for the cattle drive two days before they were to leave…
Crossed By Death by ACF Bookens
Mystery, 4.6 stars, 131 reviews
Salvaging from historic buildings isn't supposed to require reporting a murder.​ When salvage expert and historian Paisley Sutton crawls into an abandoned store with a house attached, she certainly isn't expecting to find a body on site. But soon, her discovery sends Paisley on an expedition through history that links this murder to the one that led the previous owners to abandon the building in the first place. And someone doesn't want her to salvage this story from the wreckage.
Deadhead and Buried by H.Y. Hanna
Mystery, 4.4 stars, 1700 reviews
Poppy desperately wants to pay off her debts, quit her dead-end job, find her missing father… oh, and keep a plant alive. But she knows that these are just hopeless dreams. Then a mysterious letter arrives and Poppy finds that she's inherited a cottage garden nursery – complete with romantic climbing roses, scented herbs, a bossy, talkative ginger cat.. and a dead body! Now she must solve the mystery or risk losing her new home and the chance for a fresh start. But who would want to murder a gardener in a sleepy little village?
Alter Ego (League of Independent Operatives Book 1) by Kate Sheeran Swed
Fantasy, 4.4 stars, 37 reviews
The world knows Mary O'Sullivan as a Page Six regular; she's an heiress, a playgirl, a philanthropist—and an orphan, after she survived the plane crash that killed her celebrity parents. The world knows her vigilante alter ego, too—they just don't know it's Mary behind the mask. There's a lot the world doesn't know. Like the fact that their vigilantes work together in a top-secret superhero league. When Mary blows off that league's protocol to rescue a fire-powered newcomer, she attracts unwanted attention from the girl's father—who's got serious gripes with the league and mysterious backers lurking in the shadows…
Dig Two Graves: Revenge or Honor by Nick Vellis
Thriller, 4.6 stars, 43 reviews
Greece has been the stage for countless legends of war and adventure. In 1944, the occupying Germans pledged to leave Greece's Jews in peace in exchange for a head tax. The ransom was paid but the Germans herded the Jews to the camps just the same. That's when an OSS commando, a Greek himself, parachuted into occupied Greece. The soldier turned the Nazi plot on its head then disappeared with the loot. Seventy years later, the soldier's grandson searches for the truth, his father's murderer, and the fabulous missing fortune bringing the decades-old mystery to an explosive conclusion.
Dust and Shadow: A Forgotten Lands Novel by Lindsey Pogue
Fantasy/Science Fiction, 4.5 stars, 152 reviews
No place on earth is untouched by the Shift.
It's been two centuries since the boom of the Industrial Revolution sent the Victorian world into a devastating climatic shift. Now, chivalry is dead and the frills and frivolities of the romantic era are no more than a fading memory. And in Sagebrush Canyon, thirst rules, ignorance is power, and nothing is as it seems. Jo has kept to the safety of her family's farm, desperate to forget the horrific day that took her mother and left Jo battered and broken…
The Haunting of Sunshine House by Dominika Best
Horror, 4.3 stars, 882 reviews
Once an exclusive Hollywood hotel catering to the likes of Rudolf Valentino and other great stars of the Silent Film Era, the Bockerman Hotel now is the Sunshine House, an assisted living home for seniors. And its residents are dying…in droves. Sara Caine, paranormal investigator, couldn't believe she got an invitation to hunt for ghosts in the most haunted building in all of Los Angeles, The Sunshine House. Her excitement turns to horror as the mysteries of Sunshine House reveal themselves to be more terrifying then she could have ever imagined…
Realm of Knights by Jennifer Anne Davis
Fantasy, 4.4 stars, 491 reviews
Reid has spent her whole life pretending to be a man so she can inherit her father's estate, but when a chance encounter threatens to expose her lie, she is forced to risk everything. In the kingdom of Marsden, women are subservient to men and land can only pass from father to son. So when Reid Ellington is born, the fifth daughter to one of the wealthiest landholders in the kingdom, it's announced that Reid is a boy. Eighteen years later, Reid struggles to conceal the fact she's actually a young woman. Every day, her secret becomes harder to keep…