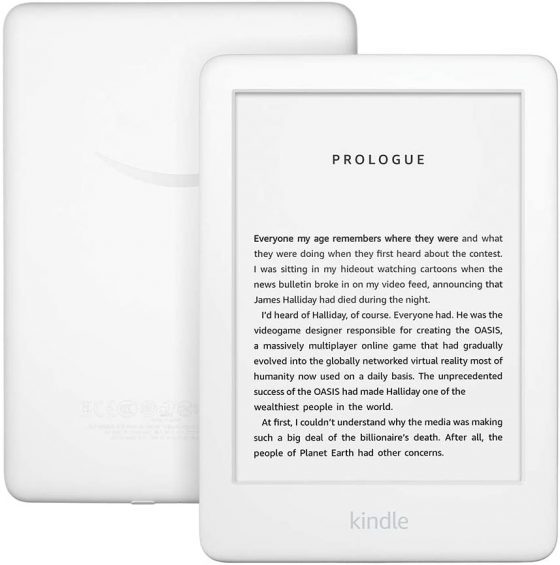 Below you will find a list of 10 free highly-rated Kindle ebooks to help get the weekend off to a good start.
There's also a few Kindle-related deals this week where you can get 15% off when buying two, but I think it requires a Prime membership and obviously it doesn't apply to the new Kindle Paperwhite 5.
Please note the free Kindle books listed below are free as of October 16th, 2021. Most of these titles are free for a limited time only and will expire in the next few days or hours before going back to the regular list price.
A good place to find more free Kindle books is on the free bestsellers list at Amazon.
You don't need to own a Kindle ebook reader or a Fire tablet to read these free ebooks; you can use free Kindle reading apps for iPad, iPhone, and Android devices, or use a computer or web browser.
Subscribe to The eBook Reader Blog to keep updated on future free ebooks posts, along with ebook reader news, reviews and how to guides, or you can follow this site on Facebook and Twitter to get updates.
Kindle Deals
Kindle – $39.99 (refurbished)
Kindle Paperwhite 4 – $94.99 ($35 off)
Kindle Paperwhite 4 with Cellular Connectivity – $184.99 ($65 off)
Select Kindle Models – Get 15% off when buying 2, plus get 10% back when using a Prime card (requires a Prime membership)
Get 20-40% off Kindle Unlimited Gift subscription
Kindle Unlimited Promos – Offers vary by account
Amazon First Reads – Free eBooks for Prime Members
Get 20% off New Kindle with Trade-in
10 Free Kindle eBooks
Shades of Silence by Liz Lazarus
Suspense, 4.8 stars, 64 reviews
Julianna Sandoval is living in limbo. Her husband's plane has vanished over the Atlantic Ocean and although the Coast Guard has suspended the search, she clings to hope that he'll still be found alive. Three months later, a young woman appears after hours at Julianna's Ormond Beach restaurant, declaring, "He's not who you think he is." Before the stranger can say anything else, a gunshot through the window kills her instantly. Seasoned detective Paul Grant is assigned to investigate the girl's murder…
Pretend You're Mine by Lucy Score
Romance, 4.7 stars, 3734 reviews
Luke Garrison is a hometown hero, a member of the National Guard ready to deploy again. He's strong, sexy, broody. The last thing he's looking for is a woman to ruin his solitude. When the wildly beautiful Harper stumbles into his life, though, he realizes that she's the perfect decoy. A fake girlfriend to keep his family off his back until he's deployed. So what if kissing her sends his mind to wicked places? He can control himself. Can't he?
Shadow Hunters by E.J. King
Fantasy, 4.4 stars, 300 reviews
Alex Garretty is forced to start over– new town, new school, and new name. This much she knows. It's what she doesn't know that could destroy her. Alex is yanked from her home in the middle of the night. Her entire family is moved across country and given new identities. Just when she thinks it can't get any worse, she meets Daniel– her mysterious, charming classmate. It isn't long before she learns that she isn't the only one keeping a big secret, but Daniel's secret could cost Alex her life…
Chasing Risk by Brandt Legg
Action Thriller, 4.6 stars, 68 reviews
A fugitive billionaire and a former spy stumble onto an ominous program where everything about our modern lives is dissected, processed, and packaged, not to sell us things, but to sell us ideas, to control us, to make sure we don't shatter the illusion. Chase and Wen face the worst dangers of their lives when the most malicious organizations in the world see them as a critical risk…
Hard Landing by Edie James
Romantic Suspense, 4.6 stars, 405 reviews
Two wary souls get a second chance at love…if a killer doesn't find them first. When a stalker turns to murder, pilot Kelli Spencer needs protection. What she doesn't need is her old love Jack Reese returning to stir things up, but the former Navy SEAL and his team of protection specialists are the best of the best. Trust him with her life? If she has to. Trust him with her heart? No way. The last time Jack left, he made it clear married life held no appeal. Ten years later, he wastes no time letting her know he hasn't changed. Not that she'd be fool enough to hope…
Diamond Reef by Douglas Pratt
Adventure, 4.6 stars, 153 reviews
Chase Gordon has the life. The former Marine works part-time as a bartender to support his life island-hopping on his 40-foot sailboat.When the pretty young wife of one of his fellow Marines shows up looking for her husband, Chase steps in to help her out.Immediately, he finds himself in a stand-off between one of South Florida's most dangerous drug dealers and the D.E.A. Now, he's left wondering what kind of trouble his friend might be facing. Can Chase even save him?
The Atlantis Stone by Nick Hawkes
Mystery, 4.4 stars, 798 reviews
Felicity discovers the 'Atlantis stone' whilst scuba diving on the south-east coast of Australia in a treacherous area known as 'the ship's graveyard.' Her diving is part of her research into the fabled 'mahogany ship,' a wreck sighted on the beach by early white Australians. She meets Benjamin as a result of her love of diving. He is an indigenous Australian, but past traumas have caused him to disown his aboriginal heritage. Benjamin is now struggling to find his identity in the Western world, and has retreated to his workshop where he ekes out a living as a wood-turner…
Shades of Treason by Laura Scott
Science Fiction, 4.4 stars, 360 reviews
Lieutenant Ramie Ashdyn is an anomaly, a person whose genetics makes her stronger and smarter than the average human. She's pledged her life to protect the Coalition, an alliance of thirteen planetary systems, but when a top secret operation turns bloody, she's charged with treason and the brutal executions of her teammates. The Coalition needs the information Ash's team stole on their last mission, so they send in Commander Rhys "Rest in Peace" Rykus to get it…
20 Slow Cooker Thanksgiving Dinner Ideas by Prime Publishing
Cookbooks, 4.4 stars, 143 reviews
Prepping for the holidays with limited oven space can be tough, but with our eCookbook, you can learn how to make classic Thanksgiving dishes, or even your entire Thanksgiving feast, using your slow cooker. If you're looking for Thanksgiving recipes that everyone will love, download 20 Slow Cooker Thanksgiving Dinner Ideas, for some slow cooker Thanksgiving recipes to add to your traditional Thanksgiving dinner menu.
Murder's a Witch by Danielle Garrett
Mystery, 4.5 stars, 590 reviews
Following a slight misunderstanding with magical law enforcement, I wind up expelled from the hidden supernatural community known as the Seattle Haven. My parole office dumps me in a tiny beach town with nothing but my collection of worldly possessions and a warning that this is my last shot. I don't think I'm cut out for the human world, but when stuck between a prison cell and a haunted halfway house, I suppose I'll take option B…