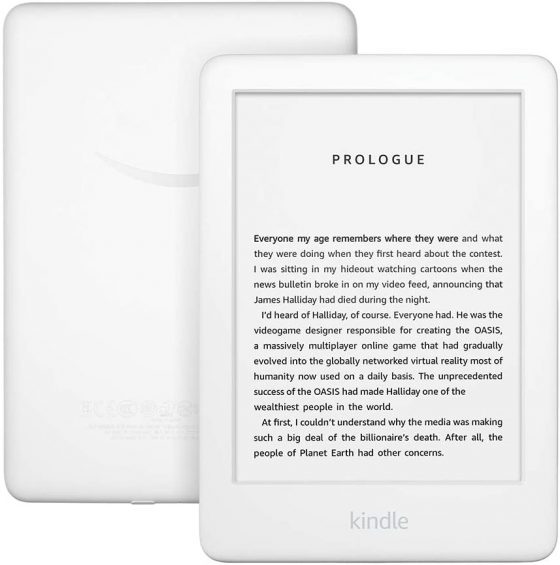 Here's a list of 10 free highly-rated Kindle ebooks for the holiday weekend.
Please note the free Kindle books listed below are free as of October 30th, 2021. Most of these titles are free for a limited time only and will expire in the next few days or hours before going back to the regular list price.
A good place to find more free Kindle books is on the free bestsellers list at Amazon.
You don't need to own a Kindle ebook reader or a Fire tablet to read these free ebooks; you can use free Kindle reading apps for iPad, iPhone, and Android devices, or use a computer or web browser.
Subscribe to The eBook Reader Blog to keep updated on future free ebooks posts, along with ebook reader news, reviews and how to guides, or you can follow this site on Facebook and Twitter to get updates.
Kindle Deals
Halloween week: Up to 80% off Kindle eBooks
Kindle – $49.99 ($40 off)
Kids Kindle – $59.99 ($50 off)
Kindle Paperwhite 4 – $89.99 ($40 off)
Get 20-40% off Kindle Unlimited Gift subscription
Kindle Unlimited Promos – Offers vary by account
Amazon First Reads – Free eBooks for Prime Members
Get 20% off New Kindle with Trade-in
10 Free Kindle eBooks
An Invitation to Murder by AG Barnett
Mystery, 4.3 stars, 337 reviews
She used to solve murders on tv, now she needs to solve one for real. Mary Blake had it all. Actress, icon and darling of the nation, she was the queen of TV crime drama. Then she turned fifty. When replaced on the show by a younger woman, she thinks her days in the limelight are over when an invitation to a murder mystery party from an old friend throws her back into the public eye. This time as a murder suspect. After playing a detective for years, Mary must now become one as she tries to prove her innocence with the help of her puppy-like brother and her surprisingly useful friend and assistant, Dot.
A Cry in the Dark by Denise Grover Swank
Romance, 4.5 stars, 2314 reviews
With the ink barely dry on her new identity, Carly Moore just wants to disappear…but fate has other plans. Broken down car, next to nothing in her bank account, Carly is stuck in a Smoky Mountain town that time has forgotten. Drum is riddled with secrets and outsiders are eyed with distrust. Still, it isn't until she witnesses a cold-blooded murder in a darkened parking lot, that she realizes she's escaped one nightmare, only to land in another…
Hocus Pocus and The All-New Sequel by A. W. Jantha
Fantasy, 4.7 stars, 4897 reviews
Hocus Pocus is beloved by Halloween enthusiasts all over the world. Diving once more into the world of witches, this electrifying two-part young adult novel, released on the twenty-fifth anniversary of the 1993 film, marks a new era of Hocus Pocus. Fans will be spellbound by a fresh retelling of the original film, followed by the all-new sequel that continues the story with the next generation of Salem teens…
Magic & Murder by Annabel Chase
Mystery, 4.5 stars, 570 reviews
Short on both cash and time, Ember Rose does her best as a single mom in New Jersey, serving up attitude along with repossession notices. When a repo job goes sideways, she and her daughter find themselves in imminent danger–until a visit from estranged relatives turns their world upside down. Ember, Marley, and their Yorkie are transported to Starry Hollow, a paranormal town where witches rule and magic is as normal as pizza…
Little Girl Lost (Georgiana Germaine Book 1) by Cheryl Bradshaw
Mystery, 4.5 stars, 1024 reviews
For the past two years, Georgiana "Gigi" Germaine has been living off the grid, until today, when she hears some disturbing news that shakes her. Georgiana's brother-in-law has been murdered, her seven-year-old niece kidnapped. As the hours waste away, Georgiana races back to a town she left behind, and a former life she's still not ready to face.
12 by Nolon King, David Wright
Thriller/Suspense, 4.4 stars, 1402 reviews
What Would You Do With the Last 12 Hours of Your Life? At 6 p.m. on a Wednesday in October, a gunman will enter Goldman's Diner and commit one of the worst massacres the small coastal town of Palm Isles, Florida has ever seen. Twelve hours earlier: twelve lives are on borrowed time, unaware that death is coming, or that their paths will collide in one tragic moment. A young waitress and mother fights to protect her daughter from her violent estranged husband. Little does she know that a greater threat looms under her nose…
Everhaven: Book One of the Reaper Trilogy by Elizabeth J. Rekab
Thriller, 4.6 stars, 52 reviews
A town not even the Dead can escape. A teen who dreams of freedom. Can Abbie save her loved ones before Everhaven claims their souls forever? 17-year-old Abigail Walters knows that after an Everhaven resident dies, they will come to her, just as she knows she will always be an outcast due to her late father's crimes. What's more, she can't leave Everhaven no matter how badly she may want to escape. No resident can cross its border into the outside world…
The Vacuum of Space by Julia Huni
Science Fiction, 4.5 stars, 225 reviews
Avoiding the wealthy inhabitants on the upper levels of Station Kelly Kornienko is bot-programmer Triana's number one rule. Well, number two, right after "eat all the chocolate." But when one of her cleaning bots finds a dead body, all the rules go out the airlock. A highly connected security agent interrupts her routine with stories of missing bodies, and Triana can't ignore him; it's cooperate or find a new job. A girl has to pay the rent, even on a crappy studio compartment…
Shadows Follow Echoes Rhyme: A Halloween Special by Prime Publishing
Children's eBooks, 4.3 stars, 14 reviews
Come along for a spooky night of Halloween fun with this adorable rhyming story that will have your little ones learning about shadows and echoes with ease. Shadows Follow Echoes Rhyme is the third entry in the delightful Patrick the Piglet's Learning Adventures picture book series. Written in simple rhyme, children will giggle with glee at this slightly spooky story starring Patrick the piglet and his friends from the farm dressed up in silly Halloween costumes—including ghost, witch, spider, mummies, and shadow wolf!
Father Knows Death by Christy Murphy
Mystery, 4.4 stars, 52 reviews
Two weeks after their birthday, twins Joy and Didi discover they're going through "The Change" also known as the time when late-blooming witches get their magic. That would be fun news except they descend from a line of ancient witches with magic that skews evil. To make sure they're not following in their ancestor's footsteps, the Witches High Council demands they prove their innocence by undergoing "a trial." But this is no ordinary trial. In order to prove their innocence, the twins have to help a mortal solve the death of his true love while proving their internal goodness…