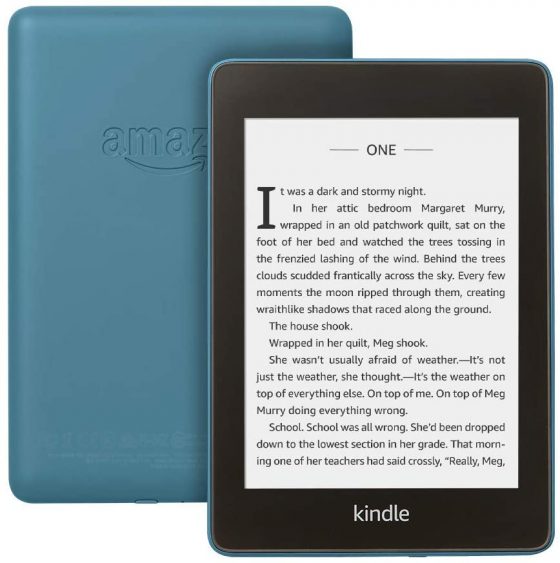 It's time for another roundup of 10 free highly-rated Kindle ebooks for your Sunday.
Also, Woot still has the current Kindle available for $34.99, and the previous generation Kindle Paperwhite is available for $59.99. Both are listed as refurbished.
Amazon also has a list of paper books on sale today only (11/14) for one of their main Deals of the Day.
Please note the free Kindle books listed below are free as of November 14th, 2021. Most of these titles are free for a limited time only and will expire in the next few days or hours before going back to the regular list price.
A good place to find more free Kindle books is on the free bestsellers list at Amazon.
You don't need to own a Kindle ebook reader or a Fire tablet to read these free ebooks; you can use free Kindle reading apps for iPad, iPhone, and Android devices, or use a computer or web browser.
Subscribe to The eBook Reader Blog to keep updated on future free ebooks posts, along with ebook reader news, reviews and how to guides, or you can follow this site on Facebook and Twitter to get updates.
Kindle Deals
Kindle – $34.99 (refurbished)
Kindle Paperwhite 4 – $59.99-$79.99 (refurbished)
Get 20-40% off Kindle Unlimited Gift subscription
Kindle Unlimited Promos – Offers vary by account
Amazon First Reads – Free eBooks for Prime Members
Get 20% off New Kindle with Trade-in
10 Free Kindle eBooks
The Locket by Ruth Saberton
Romance, 4.6 stars, 1386 reviews
During the golden summer before the First World War, Emily Pendennys knows her duty is to rescue the family fortunes by marrying well. Falling in love is little more than a dream and leaving her small Cornish village an impossibility. But as the storm clouds of war gather a chance encounter changes Emily's future and steals her heart forever. Over a century later researching family history is a solace for Alison Foy while her beloved soldier son is away on active service. When she stumbles across a forgotten link between her great-grandparents and the famous war poet Kit Rivers, Alison discovers their past is woven through her present in a tapestry of loss, love and long kept secrets. One tug of the thread will be all it takes for a decades-old pattern to unravel…
Touched by Magic by Celine Jeanjean
Fantasy, 4.5 stars, 270 reviews
I'm Apiya. No, I'm not a badass magical assassin. I'm a barber to the supernatural. My magic is very weak and very niche—it works best with keeping things clean. I know. I can sense your awe at my power already. And I'm sure you can see why barbering suits me well. Although now that I've mastered the art of trimming a weretiger's regrowth, my biggest challenge is fielding the insults of the shop's cat…
Be Mindful of Monsters by Lauren Stockly
Children's eBooks, 4.8 stars, 189 reviews
"Be Mindful of Monsters" is designed to help children understand and cope with powerful emotions. The book follows Ezzy, a gender-neutral nine-year-old whose feelings of anger, sadness and worry have grown into monsters. With a compelling story and diverse characters, the book explores the challenges and benefits of accepting uncomfortable emotions…
Genesis Sequence (Across Horizons) by Stan C. Smith
Science Fiction, 4.7 stars, 48 reviews
Banished from her tribe, Skyra Una-Loto wanders through an ancient landscape teeming with fierce predators. Skyra searches for a way to overcome the crippling fear that has plagued her since witnessing her birthmother's brutal death. The problem is, to overcome her fear and reclaim her strength, she must attack and kill predators that will probably kill her first…
Dangerous To Know by K.T. Davies
Fantasy, 4.4 stars, 774 reviews
Half-human, half-lizard, Breed Blake is chased by a dragon, hunted by assassins, and bound to serve a demon. With a year and a day to find an ancient artifact, the deck is stacked against them.
But with the help of a one-handed priest, a drunk, and a rat faced girl, Breed is not going down without a fight. Dangerous to Know is the first book in the gritty Chronicles of Breed epic fantasy series. If you like scoundrels, sword and sorcery, and comic grimdark, then you can't afford to miss this gripping tale.
Bacon Cookbook: 150 Easy Bacon Recipes by Bonnie Scott
Cookbooks, 4.4 stars, 108 reviews
There is nothing that comes close to the smell of bacon cooking. If you want to find new ways to cook with one of your favorite meats then Bacon Cookbook: 150 Easy Bacon Recipes is the book for you. This book is the last word on bacon recipes, including sides and potatoes, vegetables, pasta, snacks and main dishes. The 24 bacon desserts are a must-see!
Caribbean Wake by Matthew Rief
Adventure, 4.5 stars, 586 reviews
On a cold winter morning, the promising young man could only watch as his fiancée was killed in a brutal act of terror that left fifty-seven dead. Fueled by burning passion and an incessant desire for retribution, Jason puts himself through hell at a grueling covert training facility to become one of the deadliest men on Earth. When the ruthless terrorist group seeks innocent blood once more, the resolved American stands fearlessly in their way with one all-consuming objective: send the mass murderers to their maker, or die trying.
The Last Beekeeper by Jared Gulian
Thriller/Suspense, 4.5 stars, 67 reviews
Sometimes your safe place… is not. When murder strikes a remote community, a reclusive beekeeper uncovers a horrifying secret that could destroy humanity. Jim Parker, a honeybee expert, has retreated to a small island in Lake Michigan with his teenage daughter after a terrible family tragedy. He longs to hide from an increasingly dangerous world. In the midst of a Global Bee Crisis, bees everywhere are dying and the food supply teeters on the brink of collapse…
Vanquished by S. E. Green
Suspense, 4.3 stars, 131 reviews
A secret island. A sadistic society. And the woman who defies all odds to bring it down. Yesterday, her worst problem was getting her sister to school on time. Today she's a slave in a perverse new place ran by the rich and elite. And an even worse fate awaits her sister if she can't become a cold-blooded killer. On a private island, the world's most powerful people recreate their deviant fantasies in a cosplay environment. Forced to fight and maim for other's enjoyment, her only hope of survival is to embrace the ruthless teachings of the cold, watchful man assigned to train her…
Murder By Chocolate by Rosie A. Point
Mystery, 4.3 stars, 486 reviews
Ruby Holmes wants to travel, sell delicious baked treats from her food truck, and never stay in one place for too long. Then the unexpected happens: upon arriving in Carmel Springs, Maine, she's asked on a blind date by a handsome fisherman. When Ruby goes to meet him, she finds his dead body instead. A murderer has struck, and the cunning detective who 'runs' the town names her as the prime suspect. Ruby can't run, but staying might mean falling victim herself. Can she solve the murder in time?