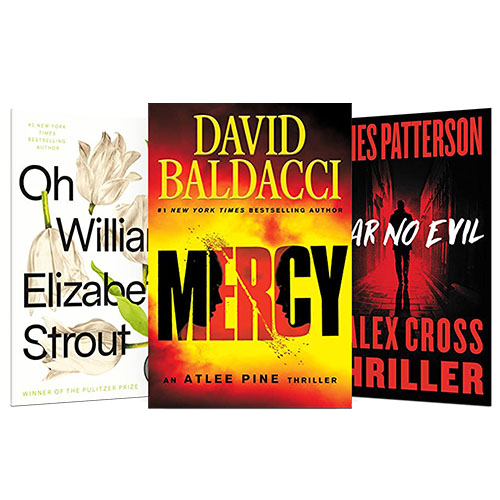 Here's a list of ten free highly-rated Kindle ebooks for the new year weekend, and Amazon has a list of Kindle ebooks on sale today only for one of their main Deals of the Day.
The previous generation Kindle Paperwhite is still on sale at Woot as well for the next couple days or until sold out. You can get a refurbished Kindle for $59.99 or a brand new one for $69.99 without ads.
Please note the free Kindle books listed below are free as of January 2nd, 2022. Most of these titles are free for a limited time only and will expire in the next few days or hours before going back to the regular list price.
A good place to find more free Kindle books is on the free bestsellers list at Amazon.
You don't need to own a Kindle ebook reader or a Fire tablet to read these free ebooks; you can use free Kindle reading apps for iPad, iPhone, and Android devices, or use a computer or web browser.
Subscribe to The eBook Reader Blog to keep updated on future free ebooks posts, along with ebook reader news, reviews and how to guides, or you can follow this site on Facebook and Twitter to get updates.
Kindle Deals
Kindle Paperwhite 4 – $69.99 (new)
Kindle Paperwhite 4 – $59.99 (refurbished)
Kindle eBooks Sale: Load your Kindle for $0.99 or up – 1/2 only
Get 20-40% off Kindle Unlimited Gift subscriptions
Kindle Unlimited Promos – Offers vary by account
Amazon First Reads – Free eBooks for Prime Members
Get 20% off New Kindle with Trade-in
10 Free Kindle eBooks
Black Diamond Death by Cheryl Bradshaw
Mystery/Thriller, 4.3 stars, 1184 reviews
Charlotte Halliwell has been keeping a deadly secret. Before she has the chance to reveal it, she's found dead. At first glance, it appears to be nothing more than an accident, until poison is found coursing through Charlotte's body. Charlotte's sister Audrey hires Sloane Monroe, a sassy, headstrong private investigator to look into her sister's murder. As Sloane works to solve the case, a second body is found. With the killer aware that Sloane will stop at nothing to find him, he tracks her every move. Will Sloane uncover the truth before he strikes again?
The Penitent Priest by J. R. Mathis
Mystery, 4.5 stars, 1445 reviews
My wife died in my arms, the victim of a nameless killer's bullet. I should have died with her. But God had other plans for me. Fifteen years later, I'm back where it all happened. I just want to forget, but the past won't leave me alone. Now, I'm asking a woman who I left broken-hearted twenty years before to catch my wife's killer. I'm Father Tom Greer, a Catholic priest, and I'm playing with fire.
Katie: The Cattleman's Daughters by Danni Roan
Western Romance, 4.5 stars, 818 reviews
Katrion (Katie) James, the oldest daughter of the Broken J ranch has always been the serious, responsible one. Can she finally let go and answer the call of her heart, or will her mother's dying words forever bind her to a life without a love of her own? Strong, independent and dedicated to her family Katie believes that life is all about responsibility. Working alongside her father to see that the ranch is successful she has all but forgotten she is a woman…
Talented by Sophie Davis
Dystopian Romance, 4.4 stars, 625 reviews
Block out thoughts. Talia Lyons has one goal at the McDonough School for the Talented: learn to use her Talent as a Mental Manipulator to kill the man who murdered her parents. Block out pain. She'll deal with anything. The brutal physical demands. The emotional toll. Whatever it takes to reach her objective. Block out friendship. With only one year left in the program, though, seventeen-year-old Talia is suddenly finding it harder than ever to ignore the rest of her life…
Southern Magic by Amy Boyles
Mystery, 4.5 stars, 717 reviews
In less than twenty-four hours Pepper Dunn loses her job, her boyfriend, and her home. It's the worst day of her life. But when Pepper discovers she's a witch and has inherited the most important store in the magical town of Magnolia Cove, Alabama, she's as happy as a pig in mud. Too bad the shop is a familiar pet store and Pepper doesn't like animals—not even a teensy bit. Determined to sell the shop and get the heck out of town, Pepper's plans go haywire when a local storeowner winds up dead and Pepper gets accused of murder.
The Cordova Vector by C.Steven Manley
Science Fiction, 4.8 stars, 31 reviews
No good deed goes unpunished. That's the one thing Brace Cordova is convinced of when he's released from a five year stretch in a military prison. He figures the best he can do is spend the rest of his days as a freighter pilot and vicariously live out his dream of a Commonwealth Fleet career through his cousin, Commander Letessa Cordova. His plans unravel when he's accosted by gangsters, rescued by smugglers, and swept up in the search for an ancient Earth relic…
Thief of Dreams by Bec McMaster
Fairy Tales, 4.4 stars, 210 reviews
Twenty brides. One prince. Who will survive when the competition turns deadly? When Prince Keir of the Court of Dreams sends out a summons in search of a bride, the Wraith King sees a chance to steal the powerful Dragon's Heart. He sends his best thief, Zemira Az Ghul, to penetrate the court as one of the potential brides. All Zemira wants is freedom from the chains that bind her to the king, and if she finds the relic she'll have it. But the Court of Dreams is more dangerous than she ever expected, and Zemira must soon choose between her freedom—and her heart…
Fly By Wire by Ward Larsen
Thriller, 4.5 stars, 1540 reviews
The C-500 with its revolutionary fly-by-wire technology, had become the freight airframe of choice—until a routine delivery goes horribly wrong. Falling like a stone from six miles up, a brand-new C-500 crashes in central France, killing two pilots aboard. With over one hundred C-500s in service around the world, interest is keen to get to the bottom of the mystery. When French officials take over this highly public investigation, they call in the best there is: they call Frank "Jammer" Davis…
Body in the Books by Heather Huffman
Mystery, 4.6 stars, 137 reviews
When Nora Jones inherits a dusty old bookshop from her estranged uncle, she moves to St. Augustine to tie up loose ends and maybe learn a bit about the man she never knew. Only what first appeared to be a heart attack turns out to be murder, and there's no shortage of suspects. The detective assigned to the case might be handsome and charming, but Nora's convinced he's chasing down the wrong lead. With her newly-inherited Greyhound named Margo and a quirky band of friends in tow, Nora decides to track down the killer…
The Witches of the Wytewoods by M J Thompson
Children's eBooks, 4.4 stars, 142 reviews
Erica Royal is no ordinary twelve-year-old witch. Born an Abraxia, her life is in danger thanks to the uncontrollable magic she possesses, which grows stronger with each passing day. Her time is running out. Hope lies in a faraway city, but to get there Erica and her brother Clark must cross the Wytewoods – a bewitched forest filled with extraordinary wildlife – where nothing is quite what it seems. But somewhere in these mysterious woods are other witches, witches who have sought a power like Erica's for a very long time. They have their own use for it, one which could change the fate of the entire world forever…