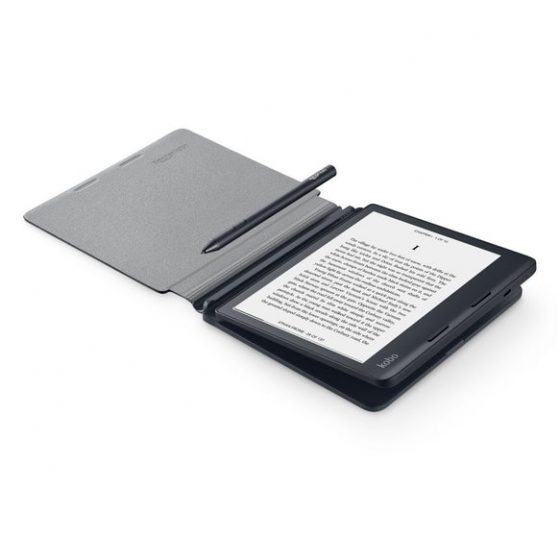 When Kobo released their new Kobo Sage ereader in October, they advertised a unique charging cover accessory to go along with it but oddly it wasn't available to purchase and it hasn't been for the past couple of months.
It looks like Kobo finally got some in stock because now the Kobo Sage PowerCover is available to order from Kobo's website for $79.99.
It seems to only be available in black, and so far I don't see it listed on other websites that sell Kobo ereaders like Amazon and Walmart.
The PowerCover has a built-in battery that can charge the Kobo Sage's battery. The cover also has a slot to hold the Kobo stylus in place, and the cover can wake and put the device to sleep when opening and closing.
Unfortunately Kobo doesn't give any specifics about the PowerCover; they don't even mention what kind of material it's made from, and they don't specify how large the battery is or how much of a charge it can provide.
The one main weakness with the Kobo Sage is its poor battery life, and clearly Kobo knew that so they decided to come out with a charging cover to help extend battery life. It isn't cheap and it probably weighs a ton, but it's now available for those that need it.