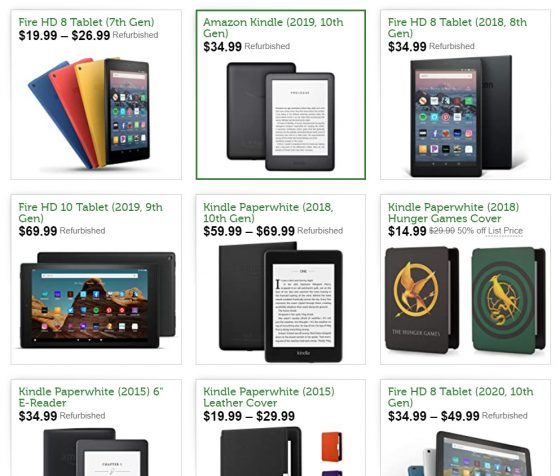 Today Woot has a new list of deals on refurbished Amazon Kindles and Fire tablets. Plus they have some covers on sale for the previous generation Kindle Paperwhite models, and if you buy a Kindle you can get an extra $5 off a cover.
The deal ends on February 8th or until sold out. You can find the full list of deals on this Amazon Kindle and Fire Tablets page at Woot.
The best deal of the bunch is probably the Kindle Paperwhite 3 for $34.99. They also have the current entry-level model for the same price, but the older Paperwhite has a better screen (300ppi vs 167ppi).
Woot also has a bunch of leather covers that will fit Kindle Paperwhites 1-3 for $19.99 ($20 off), and the premium leather cover is $29.99 ($30 off). The covers are labeled as new condition.
If you'd prefer a newer model, Woot also has the Kindle Paperwhite 4 available for $59.99 with 8GB of storage space, and $69.99 for 32GB. With the Paperwhite 4 you have the option to add a Hunger Games Cover for $9.99 (it's $14.99 otherwise).
Woot has some refurbished Fire tablets discounted as well, ranging from $19.99 for the 7th gen Fire HD 8 to $69.99 for the 9th gen Fire HD 10.