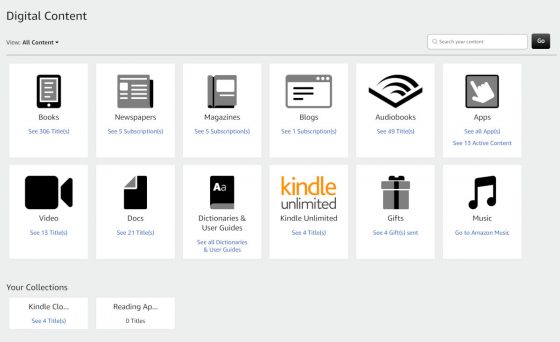 Have you been to the Manage Your Contents and Devices page at Amazon recently?
I don't use it very often myself but I visited the Digital Content page yesterday to search for a specific Kindle ebook and it definitely has a different look than the last time I was there.
Now everything is broken down into different sections on the main landing page so you can quickly access different types of content—like newspapers, magazines, audiobooks, documents and user guides—from their own individual lists.
There's also a section that shows your Kindle collections so you can easily manage your titles from there.
Why don't they have something setup like that on the homescreen for Kindle ereaders? It would make it easier to find different types of content, instead of manually having to filter and sort everything from the library.
Functionally I don't think much has changed; they just broke down the main list into pre-sorted sections, but it does make it a bit easer to find stuff, and you can also switch to different lists from a drop down menu like before.
One thing that drives me crazy about the Manage Your Content page at Amazon is there's no way to delete old newspaper and magazine subscriptions, and that's still the case. I don't know why they can't offer the option to permanently delete them like they do with ebooks. What's the point of having a subscription for a newspaper that was cancelled ten years ago?