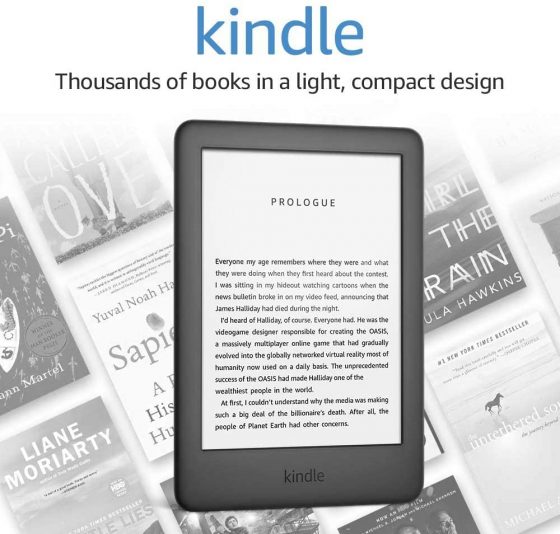 Below is a list of 10 free highly-rated Kindle ebooks to start off the week.
Please keep in mind the free Kindle books listed below are free as of February 21st, 2022. Most of these titles are free for a limited time only and will expire in the next few days or hours before going back to the regular list price.
A good place to find more free Kindle books is on the free bestsellers list at Amazon (but for some reason the list only appears on the desktop version of the site, not the mobile version).
You don't need to own a Kindle ebook reader or a Fire tablet to read these free ebooks; you can use free Kindle reading apps for iPad, iPhone, and Android devices, or use a computer or web browser.
Subscribe to The eBook Reader Blog to keep updated on future free ebooks posts, along with ebook reader news, reviews and how to guides, or you can follow this site on Facebook and Twitter to get updates.
Kindle Deals
Buy 2 Kindles, Get $20 off – Use code 2PACK during checkout
Get 20-40% off Kindle Unlimited Gift subscriptions
Kindle Unlimited Promos – Offers vary by account
Amazon First Reads – Free eBooks for Prime Members
Get 20% off New Kindle with Trade-in
10 Free Kindle eBooks
The Deep End by Julie Mulhern
Mystery, 4.4 stars, 1874 reviews
Swimming into the lifeless body of her husband's mistress tends to ruin a woman's day, but becoming a murder suspect can ruin her whole life. It's 1974 and Ellison Russell's life revolves around her daughter and her art. She's long since stopped caring about her cheating husband, Henry, and the women with whom he entertains himself. That is, until she becomes a suspect in Madeline Harper's death…
Crown of Shadows by K. M. Shea
Fantasy, 4.7 stars, 1590 reviews
The fae of the Night Court are desperately searching for a new monarch to crown before the Court collapses. I couldn't care less. I've done everything I can to bury my fae blood and embrace my human half. That changes when some fae nobles show up on my doorstep and announce that I'm the next Queen of the Night Court. Becoming an unwilling fae queen? Check. Inheriting a terrible mess? Double check…
Compound 26: The Makanza Series Book 1 by Krista Street
Science Fiction, 4.5 stars, 239 reviews
In a society ruled by sanctions and curfews, Dr. Meghan Forester emerges as the youngest and most promising scientist to join the fight against Makanza—the deadly virus that's ravaged the world. Inside Compound 26, a giant government-controlled research facility, Meghan's new job involves studying the Kazzies, the rare survivors who carry the virus and now exhibit supernatural powers. But as her work unfolds, Meghan's horrified at the brutal and unethical practices the Kazzies are subjected to…
Life Among the Tombstones by H.R. Boldwood
Horror, 4.4 stars, 288 reviews
In this prequel to The Corpse Whisperer series, financially challenged zombie hunter, Allie Nighthawk, returns to her hometown of Cincinnati and finds herself knee-deep in murder, mayhem, and zombies. Can she solve not one but two murders, and get away unscathed — when the good guys might not be so good, and a presence from her past returns for revenge?
Mystic Pieces by Ada Bell
Mystery, 4.4 stars, 559 reviews
Aly doesn't believe in psychics. Too bad she just had a vision. Aly's got enough on her plate, with finishing her degree and taking care of her nephew and starting her new job at the antique store while drooling over the owner's gorgeous son. No time for visions. Alas, the universe doesn't care what Aly believes. When she turns 21, she starts to feel psychic impressions left on objects. A disorienting power for someone surrounded by antiques. Then cranky customer Earl is killed, and Aly's new boss Olive is the prime suspect—not to mention the only person who understands Aly's gifts…
The Rise of the River-Man by L. S. O'Dea
Horror, 4.3 stars, 85 reviews
Imagine a world filled with human-animal hybrids.
They're stronger than us. Faster. More deadly and hungry. Always hungry. Now, step inside the laboratory and witness their creation. Created as weapons. Designed to obey. No one expected them to want revenge. This is Mutter's story. For the first time in his life he's afraid. Afraid of the shots his new master is giving him. Afraid that if he doesn't escape, he'll become food for one of the creatures in the nearby cages or worse… He'll become one of them.
Sinner's Muse by Vera Black
Romance, 4.3 stars, 156 reviews
I never imagined I'd get tangled up with Sinner's Run, one of the world's hottest rock bands. But after my brother joined as their new bassist, I couldn't stop stealing lingering glances at the guitarist, Tyler. There's a darkness in his eyes that I want to fill with light, but going down this road might burn both of us…
Raven One by Kevin Miller
Military Thrillers, 4.6 stars, 1291 reviews
Raven One immerses the reader into the lives of the Raven squadron and protagonist Lieutenant Commander Jim Wilson aboard the fictional nuclear powered aircraft carrier USS Valley Forge on deployment to the Persian Gulf. The reader joins Wilson in the cockpit of a carrier-based F/A-18 Hornet…and in the ready rooms and bunkrooms of men and women who struggle with their fears and uncertainty in this new way of war – amid leadership challenges that test them further…
The Inn at Dolphin Bay by Mia Kent
Romance, 4.4 stars, 1328 reviews
Tana Martin was living her best life… until suddenly, she wasn't. When she catches her husband with a woman half her age, her friend suggests that she needs a little "you time" – meaning swimsuits, Mai Tais, and golden-sand beaches, not a cantankerous old man who needs a caretaker and a family inn that has fallen into a state of disrepair She should be celebrating her silver wedding anniversary. Instead, she's gearing up for the worst summer of her life…
Run For Your Life by C. M. Sutter
Thriller, 4.4 stars, 845 reviews
With the weekend right around the corner, Homicide Detective Mitch Cannon is looking forward to Saturday night. It isn't often he has a date, and this one will be particularly interesting. His new friend Liza is beautiful, edgy, outspoken, and somewhat odd. But Mitch's usual Friday-morning phone call to his mom sets the wheels in motion for five days of pure hell. Mitch's sister, Marie, has gone missing without a trace. His date is canceled, and Mitch's partner, Devon, and Liza also go missing the following night. The only clue is a call Mitch gets from someone whose number is blocked, the anonymous speaker saying, "Ticktock, ticktock."