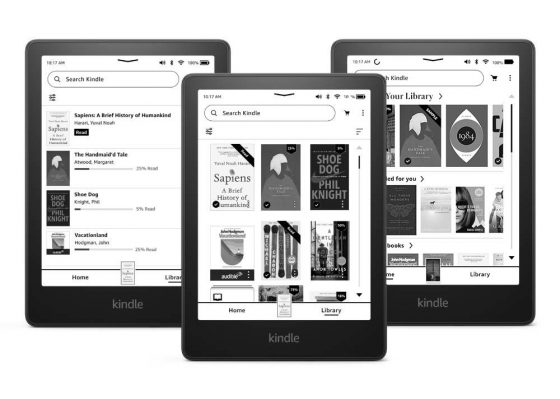 Now that Amazon has widely started rolling out the new homescreen and library view on Kindle ereaders after the latest software update, I put together a quick video showing how the new homescreen and library work.
The homescreen has a new layout with a horizontally scrollable list of books on top and recommendations listed below, which isn't much different than before, but now there's a word cloud to choose genres for recommended content (I still don't understand why they don't add the same genre sorting option for purchased content).
It's worth noting that you rarely ever have to look at the new homescreen if you don't want to; you can just keep it on the library tab instead and for the most part it will stay there. There is no way to disable the homescreen anymore like you could on older software, but that changed happened several months ago when they first started changing the user interface.
The new library view has some new sorting and filtering options, and collections now have their own separate Collections View. The weird thing about that is it only supports cover view and not list view, but you can still view your collections in list view if you change the collection view option in settings (see here for more information about how collections work after the latest Kindle update).
The new list view now shows covers, and there's no longer an option for list view without covers, and now less items are shown on screen at one time. Cover view is still an option as well, and now covers are a little larger. It still shows 6 titles on screen at once like before.
The biggest change to Library view is there's just one long vertical list now, instead of pages that you scroll through from left to right, so entering page numbers or letters to jump to a different part of the library is no longer an option. You have to use arrows or the scroll bar to navigate the library list instead, and if you hold down on the arrows it will scan through the list (usually, sometimes pressing and holding doesn't register).
Like It or Hate It?
In the twelve years I've been running this website, I've never seen so many complaints about a new software update before, not even close. Every day more people leave comments saying how much they hate the new interface.
There are a lot of complaints related to how there is no list view anymore without covers, and how the fonts are smaller and harder to read now, and some people that setup a bunch of collections are having a hard time adapting to a new system that works differently than before.
There's also a number of complaints about some books not opening or disappearing after the update. I haven't experienced that problem, but if an ebook won't download your best bet would be to remove it and then re-download it, which may require using the Manage Your Content page at Amazon.
People are always asking if they can downgrade to the older software to go back to how things were before, but unless your Kindle was jailbroken before the update happened, there is no way to go back once your Kindle updates to the new layout, so either keep your Kindle in airplane mode indefinitely moving forward if you don't want to update, or just learn to adapt to the new user interface—it's really not that much different than before.
The biggest thing is you have to get used to using the filter options to sort your content by different types, and sorting to view only downloaded content helps make the list more manageable.
Personally, I like the new list view but I think scrolling through one long list of hundreds or thousands of books with no point of reference is just about useless.
Frankly, I'm more annoyed by the removal of the back button a couple of updates ago than the changes they made to the home and library view with this update, but I don't use collections and never cared for the old list view so it just goes to show we all have different opinions when it comes to this kind of stuff.
Video Review: New User Interface on Kindles