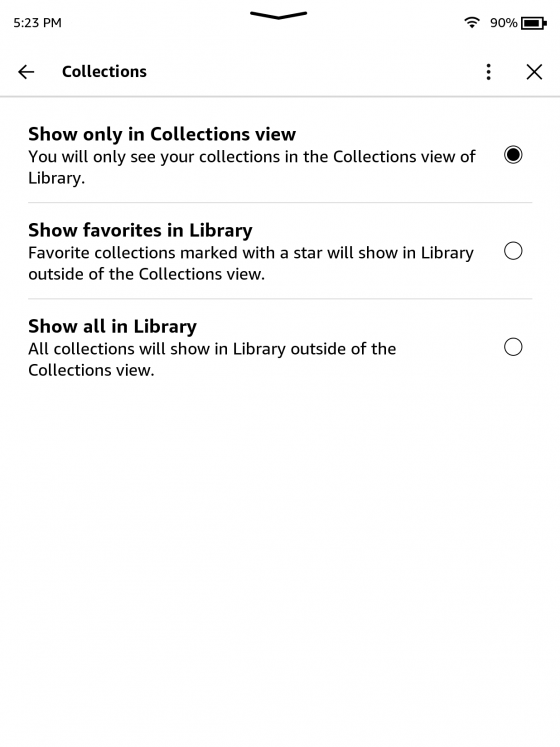 Now that Amazon has started rolling out the new user interface to all Kindle ereaders dating back to the Kindle Paperwhite 3 that was released in 2015, there's some confusion about changes made to the collections feature.
There's now different ways to view collections on Kindles and it can be rather confusing initially. With two separate menus to filter content, the new UI isn't very intuitive, and there's no explanation about how things are supposed to work now so I can see why some people are having problems with it.
There was a note about collections changing when my Paperwhite Signature Edition updated, but neither my Paperwhite 4 or basic Kindle said anything about changes to collections after they updated, so apparently Amazon just expects people to somehow figure it out on their own.
At first I couldn't find any way to view collections in the new list view format but it turns out that it just depends on what settings you have selected. There are two different ways to sort collections, and the filtering option for collections doesn't appear with the default option selected in settings (brilliant).
If you want to view your collections in list view, try using a different viewing option in settings. One will show all your collections and all the books added to those collections in one long list, or you can select to just show collections that you've marked as favorites in the main list.
Change Settings for Collection Views
To change how collections are displayed on your Kindle go to Settings > Device Options > Advanced Options > Home & Library > Collections.
The screenshot above shows the settings available.
Collections View (Default)
The default setting with the new software is "Show only in Collections view". With it selected you can only view collections from the new Collections View that's accessible from the menu at the top right of the Library. For some reason this option only supports cover view, or grid, as Amazon calls it.
If you want to view your collections in list format you have to use one of the other settings, and then choose "Collections" from the filtering menu that's accessible from the top left of the Library (this option does not appear with the default setting).
The new Collections view also includes a new folder for "Uncollected" items that aren't in collections.
Show Favorites in Library
The second option for viewing collections will show your collections outside of Collections View in your main library list only for collections that are marked as favorites. You can mark favorites by long-pressing collection folders. If you don't have any marked as favorites the collection filtering option will be greyed out in the left menu.
Show All in Library
The last collection setting will show all your collections in the main library view, but it will also show all the books that are in those collections, which kind of defeats the purpose of organizing everything into collections, but you can also use the filtering options to only view "collections" or "books" to separate the two.
Wrap up
Personally, I was never one to use collections much because I was too lazy to spend the time to set them up so this change doesn't affect me, but it sounds like some people that rely heavily on collections are having problems with the new setup.
What do you think of the new way Kindles handle collections? Do you like the old way better?