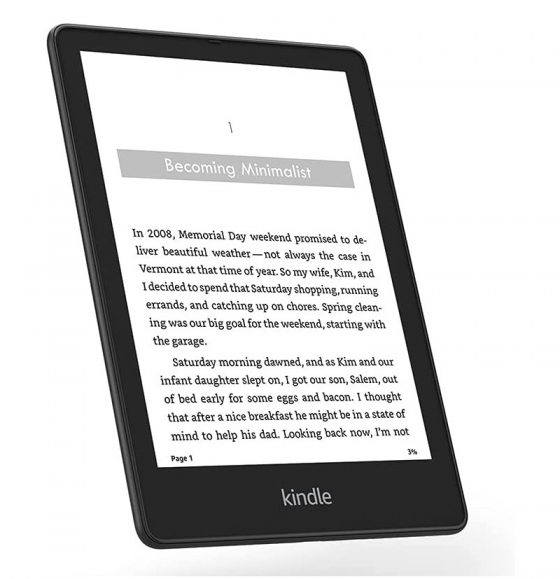 Here's a review outlining the differences between the Kindle Paperwhite Signature Edition and the standard 8GB Kindle Paperwhite 5 model.
The main difference with the Signature Edition is the addition of an auto-brightness sensor, wireless charging, and it has four times more storage space than the standard Paperwhite 5.
Otherwise the two versions are exactly the same model with the same features and same hardware so overall performance and software are virtually identical. The one way to tell them apart by looking at them is you can see a small light sensor at the top center of the screen on the Signature Edition.
As noted in an earlier article, Kindle Paperwhite Signature Edition vs Standard and Kids Editions, you're better off getting the kids Kindle Paperwhite if you don't care about the upgrades on the Signature Edition but still don't want ads because the kids version is the same as the standard version without ads and it sells for the same price ($159), but it comes with a cover and an upgraded 2-year warranty so you're basically getting those for free.
The only thing you don't get with the kids version is a free trial membership for Kindle Unlimited because it comes with a year of Amazon's Kids+ instead.
Update: Here's the link to the full Kindle Paperwhite 5 review; this review just lists the difference with the upgraded Signature Edition model.
Kindle Paperwhite Signature Edition Differences
1. Frontlight Sensor: The Signature Edition adds a light sensor to automatically adjust the frontlight brightness based on ambient lighting conditions. The auto-brightness sensor does not adjust the level of warm light, just overall brightness.
2. Wireless Charging: The Signature Edition is the first Kindle (and the first ereader) to officially offer wireless charging. It supports standard 10w Qi wireless chargers and Amazon also sells a special wireless charging stand designed specifically for the Kindle.
3. More Storage Space: The standard Paperwhite 5 comes with 8GB of storage (about 6.23 usable) and the Signature Edition comes with 32GB (about 27.3 usable).
4. No Ads: Unlike years past where Amazon offered ad-supported versions of every Kindle variation, now only the 8GB standard version has ads. There is no ad-supported version of the Signature Edition, so you don't have to pay $20 extra to remove the sleep screen ads.
5. Price: The standard 8GB Kindle Paperwhite 5 with ads sells for $139 USD, $159 without ads; the Kindle Paperwhite Signature Edition sells for $189, so basically for $50 you're getting no ads (which cost $20 extra to remove on the base model), an auto-brightness sensor, Qi wireless charging, and 32GB of storage.
Kindle Paperwhite Signature Edition Video Review
More Reviews
Kindle Paperwhite 5 Full Review