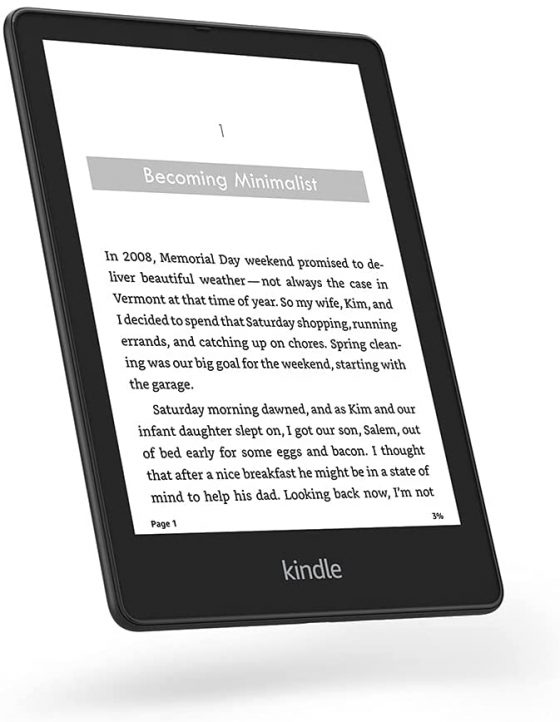 Now that Amazon has started accepting pre-orders for the new 5th generation Kindle Paperwhite, I thought it would be helpful to put together a post explaining the differences between the three new Kindle Paperwhite models because there's some confusion about the new Signature Edition.
Amazon is doing things a bit differently this time around. There aren't as many sub-models as before, and it looks like they're not going to offer a cellular model with the Paperwhite anymore.
I like how they eliminated some of the extra choices to make things less confusing for new buyers. There's only one ad-supported version now, and one 32GB version, and a misunderstood kids version that most people will likely ignore.
The Signature Edition is the most popular model so far; it's currently listed as the #1 best selling Kindle. It's somewhat surprising to see that many people care about wireless charging and an auto-adjusting frontlight, and unless you're a heavy Audible user you'll never come close to needing 32GB of storage space for ebooks.
The best value is the kids version of the Kindle Paperwhite but most people will likely never consider it just because it's being marketed as a model for kids, but it's actually the exact same Kindle Paperwhite as the standard version and kids Kindles can be used as regular Kindles, and vice versa.
One thing worth noting regarding shipping, the standard version and kids versions are listed as being available on release day, October 27th, whereas the Signature Edition apparently isn't shipping until later in November (the delivery estimate was November 11-19th when I tried to order one on release day), and the wireless charger for the Signature Edition won't be available until December.
Kindle Paperwhite 5 Differences
Kindle Paperwhite Standard – $139.99
The standard Kindle Paperwhite is available in two versions, with ads and without ads (the ad-free version costs $20 extra). It comes with 8GB of storage space and has all the same software and hardware features as the more expensive Signature Edition, minus an auto-adjusting frontlight sensor and wireless charging.
It makes no sense whatsoever to purchase the ad-free version for $159.99 when you can get the kids model for the same price with a free cover and a better warranty (see below).
Kindle Paperwhite Kids – $159.99
Same 8GB Kindle Paperwhite as standard version.
No screensaver ads.
Includes free cover (3 design choices).
Upgraded 2-year warranty that even covers accidental breakages, unlike the standard 1-year Kindle warranty.
Includes 1 year Amazon Kids+ subscription.
Kindle Paperwhite Signature Edition – $189.99
32GB storage space.
No screensaver ads.
Adds sensor to automatically adjust frontlight brightness.
Adds wireless charging (requires Qi wireless charger).