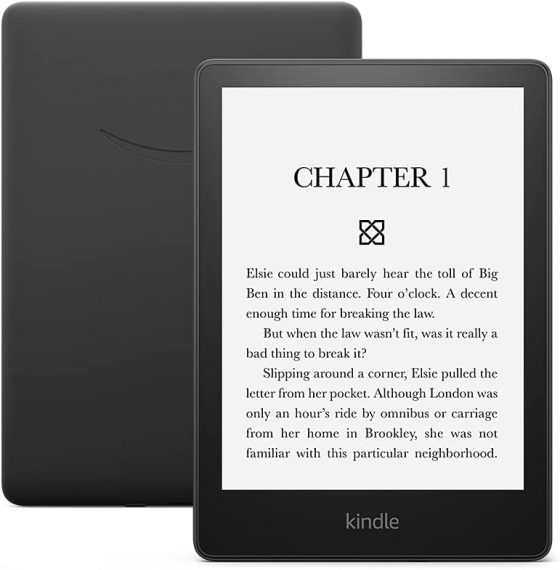 Amazon has officially started accepting pre-orders for a new 6.8-inch Kindle Paperwhite, which comes in three different versions.
There's the standard Kindle Paperwhite starting at $139.99, an upgraded Signature Edition for $189.99, and there's also a kids version that's basically the same as the standard version, except it comes with a colorful cover and an upgraded 2-year warranty since kids tend to break things. It sells for $159.99.
What sets the new Kindle Paperwhite 5 apart from earlier models is a slightly larger 6.8-inch E Ink screen instead of the standard 6-inch screen that Kindle Paperwhites have had since 2012.
This new model also adds a warm frontlight so you can adjust the tone of the frontlight color from a cool color to a warm color like the Kindle Oasis has had for the past couple years.
The Kindle Paperwhite Signature Edition adds more storage space (32GB vs 8GB for the standard version), along with an auto-adjusting frontlight and wireless charging. It also comes without ads so that saves $20 compared to the standard version, which is $159 without ads (the kids model is also ad-free).
The new Kindle Paperwhite has a USB-C port so that will make people happy, and it's the first Kindle to support 5.0 GHz Wi-Fi networks. It's also waterproof like the Paperwhite 4 and it has a flush front screen. They are advertising it as having thinner borders and 20% faster page turns.
Amazon also claims the new Paperwhite's battery can last for up to 10 weeks. Their estimates are always a bit foggy and frankly unrealistic, but the last Paperwhite was advertised with 6 weeks so it should be a noticeable improvement either way. The wireless charging requires using a Qi wireless charger (sold separately, of course).
According to Amazon, the new model measures 4.9″ x 6.9″ x .32″ (124.6 x 174.2 x 8.1 mm) and it weighs about 205 grams. Compared that to the Paperwhite 4 at 6.6″ x 4.6″ x .3″ (116 x 167 x 8.18 mm) and 182 grams. With the smaller bezels on the new version there isn't a big size difference overall.
The new Kindle Paperwhite can be pre-ordered from Amazon now and it's expected to get released on October 27th, 2021.