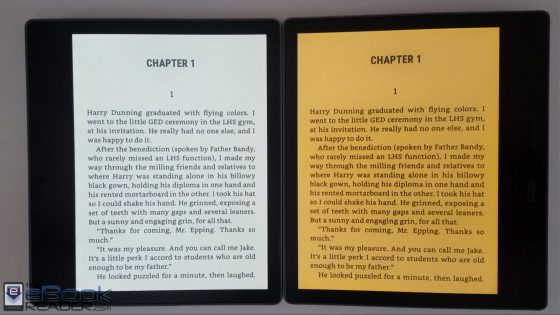 When Amazon released the 3rd generation Kindle Oasis in July 2019, it was the first Kindle to get the option to use a warm or cool frontlight.
Kobo started the warm frontlight feature with the release of the Kobo Aura One in 2016. Since then just about every new ebook reader released has a frontlight with adjustable color temperature.
Amazon was the last remaining holdout, and the lower end Kindle and Kindle Paperwhite still both lack the warm frontlight feature.
The Kindle Oasis is still the only Kindle with a warm light and people have to pay a premium to get it, with the Oasis costing nearly twice as much as the Kindle Paperwhite.
Here's what the warm frontlight looks like on the Kindle Oasis 3 compared to the Oasis 2.
Most people seem to be pretty happy with the new Oasis and the warm frontlight. It currently has an overall customer rating of 4.4-stars at Amazon.
Personally I've never been a fan of reading with an orange or dark yellow background with the warm light toward the upper end of the scale, but I do like having the option to add a couple of notches of warm light to help soften the cool light a bit.
I've never had a problem with the cool light on ebook readers, and a new study suggests exposure to dim blue light at night might be better than warm light, but I still think ereaders should continue to let users decide which color they prefer.
What about you? Do you like the warm frontlight on the Kindle Oasis? Is it worth having to pay a premium price?
Limited Time Kindle Deal
$3 towards this selection of Kindle books