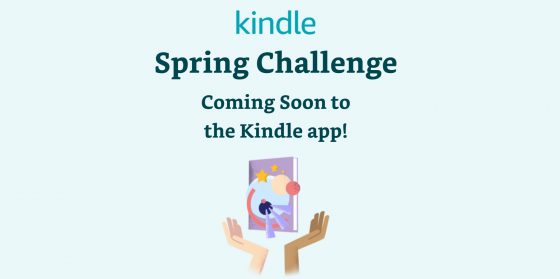 It's time for another list of ten free highly-rated Kindle ebooks for the end of March.
Amazon also a banner up about a Kindle Spring Challenge coming soon. You can signup to be notified when it starts, probably the first of April.
Please keep in mind the free Kindle books listed below are free as of March 29th, 2022. Most of these titles are free for a limited time only and will expire in the next few days or hours before going back to the regular list price.
A good place to find more free Kindle books is on the free bestsellers list at Amazon (but for some reason the list only appears on the desktop version of the site, not the mobile version).
You don't need to own a Kindle ebook reader or a Fire tablet to read these free ebooks; you can use free Kindle reading apps for iPad, iPhone, and Android devices, or use a computer or web browser.
Subscribe to The eBook Reader Blog to keep updated on future free ebooks posts, along with ebook reader news, reviews and how to guides, or you can follow this site on Facebook and Twitter to get updates.
Kindle Deals
Kindle – $64.99 ($25 off)
Buy 2 Kindles, Get $20 off – Use code 2PACK during checkout (select models)
Get 20-40% off Kindle Unlimited Gift subscriptions
Kindle Unlimited Promos – Offers vary by account
Amazon First Reads – Free eBooks for Prime Members
Get 20% off New Kindle with Trade-in
10 Free Kindle eBooks
What She Left by H.K. Christie
Mystery, 4.4 stars, 96 reviews
She's on her last chance. When the bodies start piling up, she'll need to save more than her job. Martina Monroe is a single bad day away from losing it all. Stuck catching insurance fraudsters and cheating spouses due to a DUI, the despondent PI yearns to return to more fulfilling gigs. So when a prospective client asks for her by name to identify an unknown infant in a family photo, she leaps at the opportunity and travels to the one place she swore never to go: back home…
Deadly Paradise by Jullian Scott
Mystery/Romance, 4.3 stars, 51 reviews
Ten years ago, Lyla Masterson left a party on Terror Island and was never seen again. Her best friend, Jamie Lawrence, fled the island and the people she loved most, vowing never to return. But when her older brother decides to have his wedding on the island a decade later, Jamie is forced to return and face the ghosts of her past. She is only back a few minutes when a dead body is found. Now, Jamie is forced to make amends with the only man she has ever loved – Ryan Stevens. He's a cop now, and still in love with Jamie…
Blood & Ash by Deborah Wilde
Fantasy, 4.4 stars, 1312 reviews
Detective for hire, Ashira Cohen is having a no-good, very bad day. When Ash was thirteen, her con artist father disappeared, leaving her with emotional scars and a limp she can't hide. But she toughened up, determined never to be played again. Is history repeating itself? First, she's hit on the head during a stakeout, revealing a mysterious tattoo on the back of her skull…
Cakes to Die For by Mara Webb
Cozy Mystery, 4.7 stars, 207 reviews
Zora Wick is at the end of her tether. After a lifetime of bad luck, it seems she's ended up at rock bottom, saddled with debt from her cheating ex, a dead-end job with no prospects and a studio apartment that's not even fit for a dog. It all seems a little hopeless until there's a knock at the door… It turns out Zora has long-lost family on the other side of the country, hidden away in a little town on an unknown island…
After the Virus by Simon Archer
Science Fiction, 4.3 stars, 222 reviews
Henry never realized he was special. Sure, he's an engineer who served his country, but, well, when the virus hit, he soon finds himself alone in a nearly empty world. And that's the key. Nearly empty. And there's no one left with the technical know-how to make the world run again. Well, no one but Henry. And for humanity to survive, he will have to rebuild society out of the motliest crew of survivors the world has ever seen. It might be impossible, but at the same time, Henry has always loved a challenge.
Secrets Hidden In The Glass by Cate Beauman
Romance, 4.6 stars, 650 reviews
Three Siblings. One Year. Everything Changes. Stained glass artist Callie Davis is in desperate need of a vacation. Burnt out and on the edge of a nervous breakdown, she's taking refuge on Massachusetts' tiny Carter Island. Callie yearns for long, lazy days and pretty walks on the beach—blessed solitude and an escape from the pressures of her career and complications of her life. Then she bumps into gorgeous Nate Carter, and everything changes…
Fatal Distraction by Diane Capri
Thriller, 4.4 stars, 489 reviews
Jess Kimball is the relentless mother on a mission to find her son. Peter was stolen. She wants him back. While she searches, she's helping other families get justice. Jess Kimball's son has been missing for ten long years. She spends every available moment looking for him. She'll never stop. And never give up hope. She knows the best chance she has to find Peter is a tip from someone who's seen him…
The Velveteen Rabbit by Moses Omoifo
Children's eBooks, 4.8 stars, 5733 reviews
Nursery magic is very strange and wonderful, and only those playthings that are old and wise and experienced like the Skin Horse understand all about it. Like the Skin Horse, Margery Williams understood how toys–and people–become real through the wisdom and experience of love. This reissue of a favorite classic, with the original story and illustrations as they first appeared in 1922, will work its magic for all who read it.
Happenstance: A Frank Sherman Thriller by Joel Austin
Thriller, 4.5 stars, 183 reviews
When Frank Sherman was one month into college, the Twin Towers fell. He joined the Army the next day. That was fifteen years ago. He never left the war. After a brutal and bloody mess in Eastern Europe, they give him leave to visit his only genuine friend in Northern California. Sherman arrives in the small backwater town to find an empty house and a sinking sense of despair. What began as an escape from the violence and blood quickly spirals back to the war. As he uncovers each new link in the mystery, Sherman takes another step back towards the cold-blooded killer he has become.
Time Tunnel: The Twin Towers by Richard Todd
Science Fiction, 4.4 stars, 906 reviews
September 10, 2001. Special Forces Major Kyle Mason is honeymooning at New York's SoHo Grand Hotel with his bride, Padma Mahajan. The couple's hotel is only a few hundred yards away from Padma's place of work on the 105th floor of the World Trade Center's North Tower. When Padma steps out for coffee and a cigarette, a mysterious visitor enters the honeymoon suite, warning Kyle of an incomprehensible catastrophe that will result in the total destruction of the World Trade Center towers, killing his wife. The stranger enlists Kyle's help to avert a disaster that will occur the following morning – on 9/11.