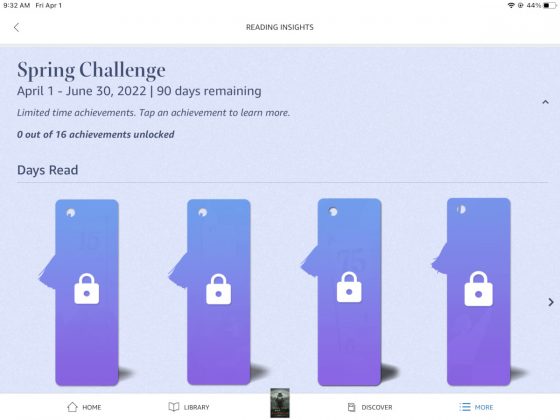 Amazon has started another Kindle reading challenge where Kindle app users can unlock achievements and complete tasks when reading Kindle ebooks.
I'm not sure what the stipulations are to participate in the challenge, but it's probably a regional thing that's limited to US accounts. You also have to use the Kindle app for Android or iOS to take part in the Spring Challenge.
Apparently Kindle ereaders aren't eligible; maybe they can be used to complete tasks but the Spring Challenge isn't visible on Kindles. It's unfortunate that Amazon's developers are favoring Kindle apps over Kindle ereaders, but that seems to be the trend these days. The Spring Challenge is the kind of thing that would work well to display on the Kindle's new homescreen, but I guess they don't want to displace all the advertisements that populate the homescreen now.
The Kindle Spring Challenge runs from April 1st through June 30th, 2022.
This time they aren't offering any credits or any incentives so you don't actually get anything for completing the challenge and unlocking achievements, other than "bragging rights".
Some of the achievements are hidden until a certain date so you don't know what to expect. They also have achievements for reading a certain number of days during the challenge, and for finishing books. Some are obvious attempts to get people to purchase more ebooks, like the achievement for reading a Kindle book from Amazon's Best of 2021 list.
Frankly this Spring Challenge seems a lot less interesting than previous challenges, especially with no credits to earn, and limiting it to the Kindle app is pretty lame.
Do you plan on participating in the Kindle Spring Reading Challenge?