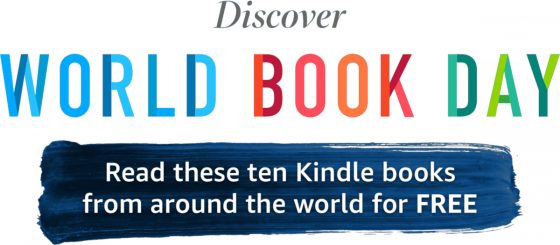 Every year around this time Amazon has a World Book Day promotion where they give away 10 free award-winning Kindle ebooks that were written by international authors and translated to different languages.
Just head over to the main World Book Day page at Amazon to claim the free ebooks. They are available on a bunch of Amazon's international websites as well; you can hit the link at the top of the page to switch regions.
The Kindle ebooks are only free for a limited time. You have through April 27th, 2022 to get the books for free.
Like usual, you don't need to own a Kindle ereader to be able to read these books. You can use the Kindle app for Android or iOS or just a regular web browser and the Kindle cloud reader.
Here's the list of books that Amazon is giving away this year:
The Puma Years: A Memoir by Laura Coleman – 4.6 star rating, 6771 reviews
The Ardent Swarm: A Novel by Yamen Manai – 4.4 star rating, 4512 reviews
North to Paradise: A Memoir by Ousman Umar – 4.5 star rating, 4929 reviews
Where the Desert Meets the Sea: A Novel by Werner Sonne – 4.2 star rating, 1670 reviews
An Eye for an Eye (Detective Kate Young Book 1) by Carol Wyer – 4.4 star rating, 8132 reviews
The Other Man by Farhad J. Dadyburjor – 4.2 star rating, 341 reviews
The Easy Life in Kamusari (Forest Book 1) by Shion Miura – 4.4 star rating, 288 reviews
Mother Dear: A Thriller by Nova Lee Maier – 4.1 star rating, 415 reviews
To the Sky Kingdom by Tang Qi – 4.5 star rating, 689 reviews
The Caiman by María Eugenia Manrique – 4.5 star rating, 1584 reviews