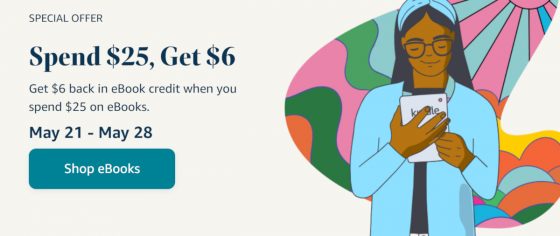 Barnes and Noble and Amazon are both running a couple of ebook promotions right now that can help save you some money when buying ebooks.
Amazon has another one of their "Spend $25, Get $6" deals where you can get a $6 credit back after spending $25 on Kindle ebooks.
These deals usually vary by account so you may get something with different spending limits and credits, or you might not get the offer at all. The promo extends to all ebooks sold by Amazon for those that do get the deal. The offer ends on May 28th. See the terms and conditions page at Amazon for the full list of details.
Barnes and Noble also has an ebook offer that's a bit better than Amazon's deal. You can get $4 off when spending $10 or more on ebooks sold from B&N.com when using code SAVEMORE at checkout.
The Barnes and Noble deal expires on May 24th, 2022 at 2:59am Eastern Time. There are some exclusions with this deal. The code can't be used to purchase gift cards and the offer doesn't apply to ebooks sold by the following publishers: HarperCollins, HarperCollins UK, Harlequin, Zondervan, Thomas Nelson, and B&N Press.
See the terms and conditions page on Barnes and Noble's website for more details. It's good to see Barnes and Noble doing more deals like this lately. Earlier in the month they had a 10% off code for buying ebooks.