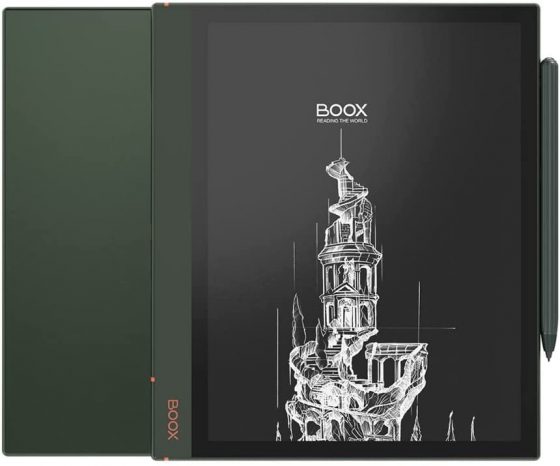 Onyx has released another new Android-powered ereader and eNote called the Note Air2 Plus. It's almost exactly the same as the previous Note Air2, but they changed a couple details.
Onyx is back to their old bag of tricks by releasing a "Plus" model. That used to mean they added more storage and RAM, but this time they just added a larger battery and the option to use a magnetic cover accessory. Additionally, the color of the new version is dark green instead of blue.
The battery size has gone up from 3000mAh to 3700mAh, and that also increased the overall weight of the device by 25 grams, now 445 grams overall.
Luckily they didn't increase the price for a change so it still sells for the same price as the Note Air2 did, except now the Note Air2 is available for $20 less.
The Note Air2 Plus is available to order from Onyx's Amazon store for $509.99 with free shipping. The new magnetic case sells for $50.99 (it does not work with the previous model).
It's kind of surprising they didn't include more upgrades than a larger battery and a magnetic cover, but it's not surprising at all to see Onyx release a new version of the Note Air so soon after releasing the previous model.
That's why I don't review Onyx's devices anymore. What's the point if they're just going to replace it with a new model in six months? The upgrades are usually so minor there's virtually no usability difference to speak of; I would bet that this new model is 95% functionally identical to the original Note Air that was released in 2020. I'm sure it's a nice device, though, but it's a shame Onyx's Note models keep getting heavier. I'm still using the ancient Note2 from 2019 and it only weighs 378 grams, and it has an even larger 4300mAh battery.
Introducing Boox Note Air2 Plus
Unleash Creativity with the Note Air2 Series
Boox Note Air2 Plus Official Unboxing