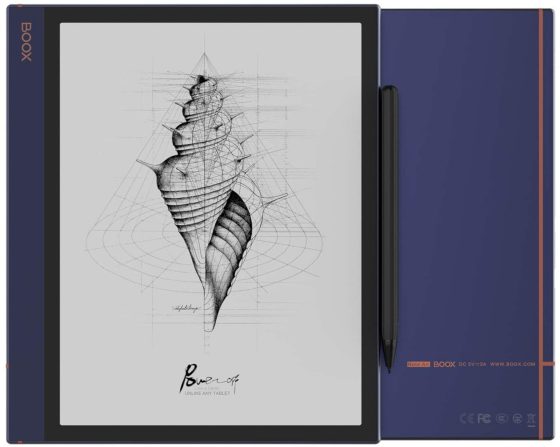 Review Date: December 2020 – Review unit purchased from Amazon
Overview
Released in October 2020, the Boox Note Air is the latest 10.3-inch device from Onyx. It has a new design that sets it apart from previous Note models, but the core functionality remains the same. It doubles as an ereader and a digital notepad, plus it's an E Ink tablet of sorts that is open to install Android apps.
The Note Air is the eighth different Note model that Onyx has released in the past 2.5 years. It's the first to use a 10.3-inch Carta screen, and the first with an offset design with a handle on one side. It's also the first to include a magnetic stylus that attaches to the side of the device.
At the same time Onyx released the Note Air they also released the Note3. Functionally they are nearly identical but there are some hardware differences between the two models, and the Note Air is $70 cheaper. See the Onyx Boox Note Air vs Note2/3 comparison for more details, with a video showing the two models in action.
Hardware
In terms of hardware, the main thing that differentiates the Onyx Note Air from earlier Note models is the screen. Other Note models (except the short-lived "S" model) use a flexible Mobius screen for increased durability, whereas the Note Air uses a Carta screen like a typical Kindle. The difference is Carta screens have a glass backing layer instead of a flexible plastic layer so in theory they are easier to crack, but without extensive testing there's really no way to know how the durability of the Note Air compares to other Note models so I will not comment on that.
Both screen versions have the same resolution (1872 x 1404) and look nearly identical from a user standpoint. The background color on the Note Air does appear a bit whiter in tone when compared to the Note2, but that could be attributed to differences with the glass front layer added over the screen. Either way text clarity looks the same to my eyes, but if you favor a slightly whiter background the Note Air checks that box.
The Note Air has a frontlight with adjustable color temperature. If you crank up the brightness in a dark room the light does appear a bit brighter along the sides when using the cool light, but overall the frontlight uniformity is quite good.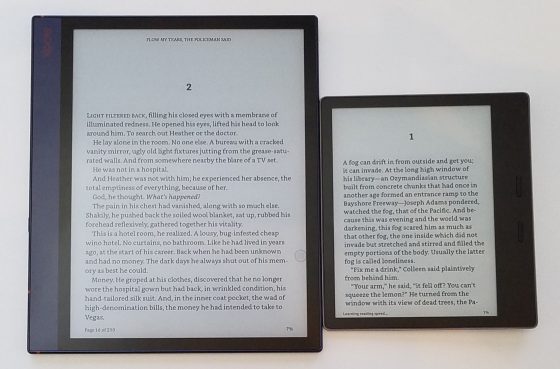 One difference with the Note Air is they added a rotation sensor so it will automatically switch the screen orientation when rotating the device. It actually works pretty well and isn't too finicky like some rotation sensors and it can be turned off.
Like the other Note models, the Note Air has a Wacom touchscreen with support for 4096 levels of pressure sensitivity. It comes with a stylus that has a new design. It's thicker than the regular stylus that Onyx sells with their other devices, so it feels good in your hand, but it still has the same cheap plastic feel—Remarkable's styluses are much nicer. After breaking in the stylus it works well. It has a finer tip than Onyx's other styluses and it also has a magnet to hold the stylus to the side of the Note Air when not in use. The one thing I don't like is the lack of an eraser so you always have to use the software to switch to the eraser instead.
Battery life is one of the compromises that Onyx had to make with the Note Air to keep the weight down because of the heavier screen. The Note Air's 3000 mAh battery is considerably smaller than the Note 2/3's 4300 mAh battery, so there is a noticeable dropoff in battery life. Overall battery life is still better than a typical tablet or phone thanks to the E Ink screen, but it's not as good as some other devices.
The Design
The Note Air features a new design that's unlike any other device that Onyx has released. It has an aluminum housing and flush glass screen that gives it a premium feel, and it's easy to hold from the larger side.
I like the look of the new design even though Onyx they clearly stole the idea from the Remarkable 2. But functionally there are some drawbacks. The metal and glass feel slick and make it harder to have a secure grip.
The device is very thin at just 5.8mm but it feels fairly heavy for a reading device at 412 grams. The name is a bit misleading because the Note "Air" is in fact the heaviest Note model that Onyx has released. The Note2/3 weigh 32 grams less despite having a much larger battery.
Don't get me wrong. The Note Air is still considerably lighter than 10-inch tablets, most of which are closer to 500 grams, but compared to other 10-inch ereaders with Mobius screens like the Sony DPT-CP1 that only weighs 234 grams the difference is significant. Maybe Onyx should try copying Sony's design instead of Remarkable's. Lighter is what's important, not thinner. Onyx is going in backwards in this regard. Their first Note only weighed 334 grams; now they're up to 412 grams with the Note "Air".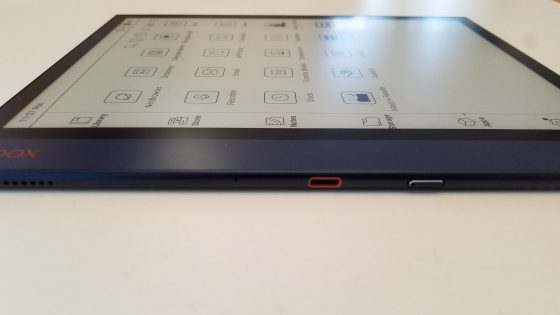 Onyx's design isn't as well thought out as it could have been. They have the power button and USB port located along the edge where you hold the device so you can feel them under your hand. You also have to create a custom tap zone with the default reading app in order to page forward with your thumb if you're holding the device left-handed. Otherwise it's impossible to page forward one-handed, and it is impossible to page backward one-handed, which seems like a clear oversight with this type of design.
Software
Considering the fact I've reviewed like ten different Onyx devices over the past few years that all run virtually the same software, I'm going to keep this brief. Onyx's software is second to none when it comes to reading PDFs and their ebook app supports like 20 formats so it's very versatile, and you can write on every book format using the stylus and notes are easily exportable.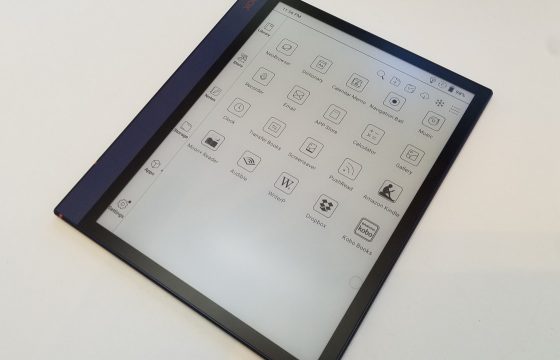 The Note Air runs software based on Android 10. It's open to install apps and has Google Play onboard if you want to activate it—E Ink devices cannot officially support Google Play so it's a bit of a hack. I just use Onyx's included appstore to download reading apps because it's easier. Most 3rd-party reading apps work surprisingly well when using Onyx's app optimize settings.
Onyx added some useful new features with their 3.0 software update that comes on the newer models, including the ability to use two apps at once in split screen view, along with layers and a new pencil tool for the Notes app, and they added new gestures that make navigating faster and easier.
You can find a list of software features for the included Note app and ebook app on the Nova2 review from earlier this year—no sense reposting everything again.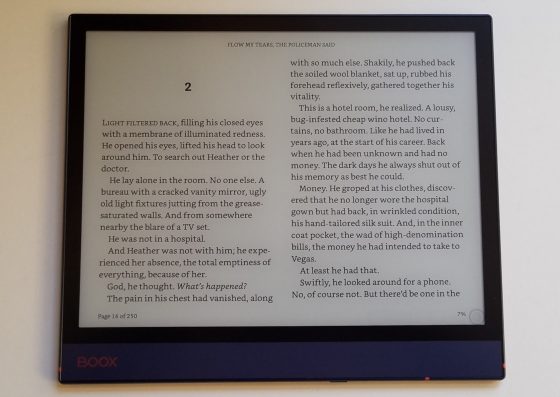 Onyx Boox Note Air Review
Pros
The large 10.3-inch E Ink screen looks great and it has a nice evenly-distributed frontlight.
The new design has more of a premium feel with the aluminum frame than Onyx's other devices with plastic cases.
$70 cheaper than regular Onyx Note model.
Cons
Battery life is good but not great; there is a noticeable dropoff from the Note2/3.
A bit on the heavy side compared to other 10-inch E Ink reading devices, and the metal and glass can be slick to hold so that doesn't help matters any.
Stylus lacks built-in eraser function and feels cheap (but you can use other Wacom styli).
Verdict
The Note Air has a new design that looks and feels like a premium device, and the 10.3-inch Carta screen looks great and the open Android operating system makes Onyx's devices a lot more versatile than typical ereaders, but the glass screen adds more weight and battery life isn't quite as good as the Note3 and Onyx's other Note models. However, the Note Air costs $70 less than the Note3 so it's understandable to make some compromises. It just depends on what features are more important to you.
Onyx Note Air Specs
10.3-inch E Ink Carta screen.
1872 x 1404 resolution (227ppi).
Wacom touchscreen, comes with stylus.
Capacitive touchscreen (2-point).
Frontlight with cool color and warm color adjustment.
Android 10.0 operating system.
"Updated" octa-core processor.
32GB storage space.
3GB RAM.
2.4GHz + 5GHz Wi-Fi.
Bluetooth 5.0.
USB-C port with OTG support.
Rotation sensor.
Speaker, mic.
3000mAh Polymer Li-on battery.
Supported formats: EPUB, PDF, MOBI, TXT, FB2, HTML, DJVU, RTF, DOC, CHM, plus more via apps.
Dimensions: 229.4 x 195.4 x 5.8mm.
Weight: 412 grams.
Onyx Note Air Video Review