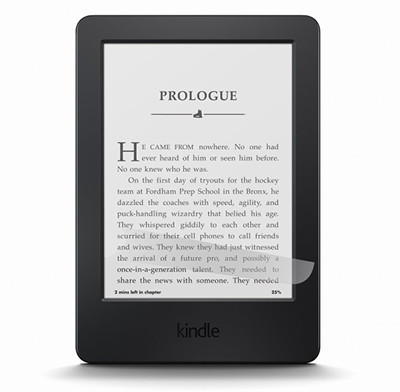 It's surprising to me how many screen protectors there are available for E Ink ereaders, Kindles especially.
Amazon even has screen protectors listed as one of the main add-on accessories on all of their Kindle product pages.
At $12.99 not only are the screen protectors way overpriced, they are completely unnecessary.
First off you can buy a decent Kindle case at that price, which is going to protect the screen 100x more than a flimsy piece of film.
Second, screen protectors cause more problems than they solve.
One of the main things that separates E Ink ereaders from tablets and other devices with LCD screens is the fact that E Ink screens aren't glossy and don't cause reflections.
E Ink screens are meant to mimic the look of print on paper. If you take a glossy screen protector and put it on top of the E Ink screen, you're just adding a reflective layer that could bother your eyes. Even the so-called "anti-glare" screen protectors are glossier than a regular E Ink screen.
Not only that but the added layer degrades the quality of the screen, making text slightly less sharp and dark. It's a proven fact the more layers you add over the top of E Ink screens the worse text looks.
Imagine taking a paper book and laminating each and every page. That's basically what adding a screen protector to an E Ink screen does.
E Ink screens can be scratched, and frontlight layers are often easy to puncture, but you're better off keeping your Kindles and E Ink ereaders in a case to protect the screen instead of using a screen protector that's just going to make the screen look worse.
I'm not against using screen protectors, in fact they can work quite well with tablets and phones (a screen protector has been holding together the cracked screen on my Lenovo Tab2 10 for the past 6 months), but I don't think E Ink ereaders and screen protectors are a good mix.