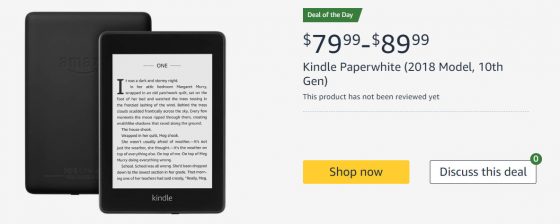 The 6-inch Kindle Paperwhite 4 is the Deal of the Day at Woot again, and the deal lasts for five days or until sold out.
They have both the 8GB version and 32GB version of the Kindle Paperwhite 4 available in new condition. The 8GB version sells for $79.99 and the 32GB model is $89.99. If you're an Amazon Prime member you get free shipping; shipping is $6 for non-Prime members.
The Kindle Paperwhite 4 is the previous generation Paperwhite model that was released in 2018, what Amazon refers to as the 10th generation Kindle.
The 8GB version originally sold for $129.99 and the 32GB version was $159.99 so it's a pretty big discount from what they used to sell for this time last year.
The Kindle Paperwhite 4 was replaced last October with the new Paperwhite 5 that has a slightly larger 6.8-inch screen, a warm frontlight and a USB-C port.
The Paperwhite 4 has a 6-inch E Ink screen with 300 ppi and a frontlight, but it doesn't have the warm frontlight option that comes on the newer model. The software features are nearly identical, however.
Even though it's a previous generation model that Amazon no longer makes, the Paperwhite 4 is still better than the current basic Kindle that Amazon is selling for $89.99. The Paperwhite has a better screen, longer battery life, it adds Dark Mode support, and it's waterproof.
See my Kindle Paperwhite 4 review for more details about the device.