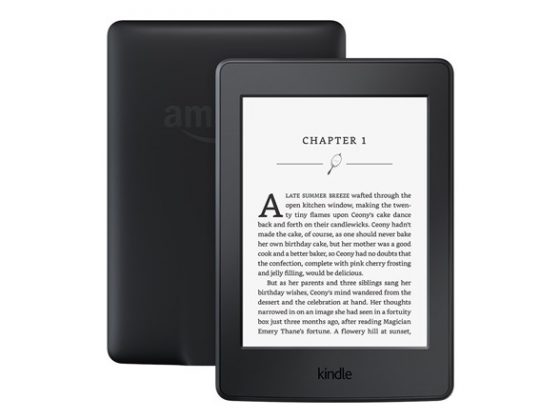 Here's a list of 10 free highly-rated Kindle ebooks to start off the new week. So far this week there's not much for Kindle deals, but Woot still has the Kindle Paperwhite 3 available for $35.
Please keep in mind the free Kindle books listed below are free as of June 6th, 2022. Most of these titles are free for a limited time only and will expire in the next few days or hours before going back to the regular list price.
A good place to find more free Kindle books is on the free bestsellers list at Amazon (but for some reason the list only appears on the desktop version of the site, not the mobile version).
You don't need to own a Kindle ebook reader or a Fire tablet to read these free ebooks; you can use free Kindle reading apps for iPad, iPhone, and Android devices, or use a computer or web browser.
Subscribe to The eBook Reader Blog to keep updated on future free ebooks posts, along with ebook reader news, reviews and how to guides, or you can follow this site on Facebook and Twitter to get updates.
Kindle Deals
Kindle Paperwhite 3 – $34.99 refurbished
Get 20-40% off Kindle Unlimited Gift subscriptions
Kindle Unlimited Promos – Offers vary by account
Amazon First Reads – Free eBooks for Prime Members
Get 20% off New Kindle with Trade-in
10 Free Kindle eBooks
Sweet Southern Magic: Sweet Tea Witch Mysteries Books 1-3 by Amy Boyles
Mystery, 4.6 stars, 208 reviews
It only takes a second for life to go to heck-in-a-hand-basket! In less than twenty-four hours Pepper Dunn loses her job, her boyfriend, and her home. It's the worst day of her life. But when Pepper discovers she's a witch and has inherited the most important store in the magical town of Magnolia Cove, Alabama, she's as happy as a pig in mud. Too bad the shop is a familiar pet store and Pepper doesn't like animals—not even a teensy bit…
The Magdalene Deception by Gary McAvoy
Suspense/Thriller, 4.4 stars, 2362 reviews
Jesus' resurrection is a cornerstone of Christian faith. But when a clue surfaces that hints at an alternate account, the ramifications stand to change Christianity forever. Jesuit priest Michael Dominic's assignment to the Vatican's legendary Secret Archives results in his discovery of a hidden papyrus: the unpublished writings of Mary Magdalene — a lost record buried in Rome's deepest recesses. The forgotten relic's heretical revelation threatens the Vatican's very legitimacy, and pits Michael against ruthless and powerful enemies…
Black Pearl by Tiffany Patterson
Romance, 4.5 stars, 1072 reviews
After leaving my abusive ex-boyfriend, I've lived a double life working as an executive assistant during the day and a burlesque performer at night. All that changes when the sexy CEO of my company walks into the club during my show. Nikola offers me a tempting proposal—he wants to mix business with pleasure. I can't deny the heat between us that's hotter than any of my dance moves, but I'm scared to give up my freedom for another man. Especially a man like Nikola, who is determined to always be in control…
False Front by Debbie Baldwin
Romantic Suspense, 4.6 stars, 366 reviews
Emma Porter is not real. She is an accomplished young woman, living a fulfilling life in New York City, working for an online news agency, and striving toward normalcy. The truth, however, is something else. She was once Emily Webster, a child of privilege, and the twenty-first century Lindbergh Baby. Her high-profile, unexplained abduction and subsequent rescue led to a childhood of paranoia and preparedness, as her kidnapper remained at large and still on the hunt…
Mystery Babylon, Book 1: The Bear by Jamie Lee Grey
Science Fiction, 4.6 stars, 569 reviews
Sierra Forester returns home for a wedding – and finds herself in the center of an FBI investigation. She discovers her university friends are not who she thought they were… and they've left her in a perilous predicament. Soon, she learns it's hard to hide in today's interconnected, wired world. Her nemesis resides in her cell phone, her computer, and even in the satellite eyes in the sky. How can a person totally disappear?
Cowboy Necromancer by Harmon Cooper
Science Fiction, 4.6 stars, 415 reviews
Even with the game system and mancer class forced onto him by the alien monoliths known as Godwalkers, Sterling just wants to farm his peppers in peace and live out the rest of his troubled existence in quiet. But when the Godwalkers show to destroy his property – and Killbilly bandits appear trying to impose a pepper tax – the tough-as-bones haiku-writing loner decides enough is enough. It's time for Sterling to reassemble his old team, open up a much needed can of whoop ass, and put an end to the alien threat once like he should have done five years ago. Or die trying…
The Complete Plant Based Diet Cookbook For Beginners by Paul Green
Cookbooks, 4.7 stars, 137 reviews
Do you want to remedy your ailments, boost your immune system, and feel more energized throughout your days? Are you looking for ways to lose those excess pounds that make you feel like you want to crawl out of your own skin? And maybe, you've thought of doing it the natural way? If you've been led to believe that the answer to health lies in drug prescriptions and new-age diets that have only been created to fail, it's time to reframe these beliefs…
Puzzled by P.J. Nichols
Children's eBooks, 4.6 stars, 626 reviews
Peter, an exceptionally clever junior high school kid, is pulled into an adventure where he and a few friends have to solve a series of very challenging riddles and puzzles. Peter's mind, which has an amazing talent for problem-solving, is needed to save the world. This adventure sure is a big change from what Peter typically deals with in life: He gets called geek and nerd by everyone in the cool group. He tries to hide his love for learning, in a hope to stick out a little less. He fantasizes about a girl who is out of his league…
Covet the Night by Rebecca Main
Fantasy, 4.5 stars, 77 reviews
Gwen's days are numbered—literally. Like her mother before her, Gwen's Acute Myeloid Leukemia diagnosis came too little too late. So, she packed her bags, said her goodbyes, and set off to see the world before her untimely end. But when Laurel, a beautiful stranger in Vienna, extends an invitation filled with her wildest dreams—eternal life amongst the haut ton of supernaturals in an underground palace filled with riches and debauchery—she can't say no…
The Deal (Off-Campus Book 1) by Elle Kennedy
Romance, 4.6 stars, 29484 reviews
Hannah Wells has finally found someone who turns her on. But while she might be confident in every other area of her life, she's carting around a full set of baggage when it comes to sex and seduction. If she wants to get her crush's attention, she'll have to step out of her comfort zone and make him take notice…even if it means tutoring the annoying, childish, cocky captain of the hockey team in exchange for a pretend date…