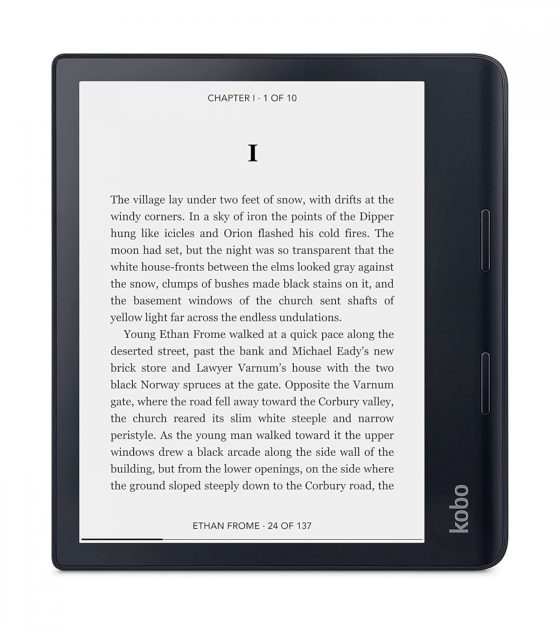 It's time for another round of sales on Kobo ebook readers, and the deals are pretty good this time.
If you're looking to get an ereader with a larger screen and page buttons, the Kobo Sage is on sale for $229.99 at Amazon with free shipping. That's $30 off the regular price of $259.99.
That's actually a really good price compared to similar models when you stop to think about it. The 32GB Kindle Oasis is $299 without ads and it has a smaller 7-inch screen. And then there's the 7.8-inch Nova Air from Onyx for $349.
The Kobo Sage has an 8-inch E Ink Carta 1200 screen with warm and cool-colored frontlights. It has a quad-core CPU, 32GB of storage, a USB-C port, it supports dual-band Wi-Fi and Bluetooth, and it's waterproof. It also supports notetaking and drawing using a stylus, but it does not come with one. The Sage supports Dropbox as well, unlike the lower-cost Kobo models.
The Kobo Clara HD is on sale for $89.99 on Amazon too. It has a 6-inch screen and no page buttons, and it's the older version of E Ink Carta, but it does have a frontlight with adjustable color temperature.
The Clara HD has been on the market for four years now so it's probably close to the end of its run, but $89.99 is still a good price for an ebook reader with a 300 ppi E Ink screen and a warm frontlight. It normally sells for $119.99.
The Kobo Clara HD has 8GB of storage, a single-core 1GHz processor, Wi-Fi, and a micro USB port. It's not waterproof and it doesn't have page buttons like the larger Sage, but it's small and portable and only weighs 166 grams.