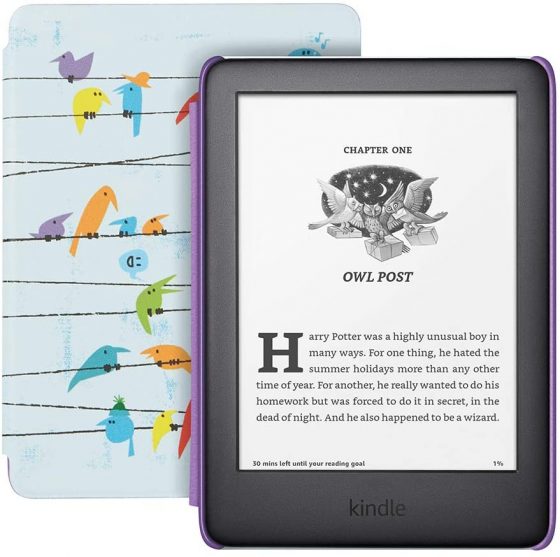 It's time for another list of 10 free highly-rated Kindle ebooks.
The entry-level Kindle is still on sale for $59.99, and a few Kindle covers are marked down by a few bucks, but this is probably the last day of the sale.
Please keep in mind the free Kindle books listed below are free as of June 19th, 2022. Most of these titles are free for a limited time only and will expire in the next few days or hours before going back to the regular list price.
A good place to find more free Kindle books is on the free bestsellers list at Amazon (but for some reason the list only appears on the desktop version of the site, not the mobile version).
You don't need to own a Kindle ebook reader or a Fire tablet to read these free ebooks; you can use free Kindle reading apps for iPad, iPhone, and Android devices, or use a computer or web browser.
Subscribe to The eBook Reader Blog to keep updated on future free ebooks posts, along with ebook reader news, reviews and how to guides, or you can follow this site on Facebook and Twitter to get updates.
Kindle Deals
Spend $15 on Kindle eBooks, Get $5 Credit – Ends June 24th
Kindle – $59.99 ($30 off)
Kids Kindle – $64.99 ($45 off)
Get 20-40% off Kindle Unlimited Gift subscriptions
Kindle Unlimited Promos – Offers vary by account
Amazon First Reads – Free eBooks for Prime Members
Get 20% off New Kindle with Trade-in
10 Free Kindle eBooks
Manhunt (A Rocky Mountain Thriller) by Ann Voss Peterson
Suspense/Romance, 4.3 stars, 780 reviews
Desperate to provide for her young daughter, accountant Shanna Clarke accepts an invitation to go on a company hunting trip in the Wind River Mountains, even though she's never shot anything in her life. If she can get through it without embarrassing herself, maybe that sought-after promotion will be hers. But then her boss starts shooting… at her…
Multiple Motives: A Kate Huntington Mystery by Kassandra Lamb
Mystery, 4.4 stars, 1273 reviews
Psychotherapist Kate Huntington helps other people cope with the horrible things that have happened to them, but she herself has led a charmed life… until now. When a series of what seem like random events—a matter of being in the wrong place at the wrong time—takes a sinister twist, it becomes apparent that she and her lawyer friend, Rob Franklin, have a common enemy. But the lead police detective has a different theory. He's convinced Kate and Rob are lovers attempting to eliminate their spouses. And he seems determined to build a case against them…
Highland Prodigy by Willa Blair
Historical Romance, 4.3 stars, 65 reviews
Jamie Lathan is a formidable warrior, yet his life depends not only on his legendary prowess with a sword, but on keeping a dangerous secret. Like his mother, Jamie wields the power of healing magic. From childhood, he knew that those skills, often feared in a woman, would be condemned outright in a man. Discovery could mean imprisonment or death, but Jamie soon learns that denying his compulsion to heal is to deny the very core of himself…
Redemption by Phil M. Williams
Thriller, 4.4 stars, 349 reviews
Do you really trust your husband? That's what I had to decide. I had it all. At least that's what people told me. Beauty, brains, and a rich husband. I deserved it too. My fiancé had cheated on me with my best friend. But I won in the end, or at least I thought I had. Until Christmas of 1999. My ex-fiancé, Danny, showed up at my parents' house, wanting to talk to my father. Danny's a police officer, and my father's a retired officer. A six-year-old girl had disappeared without a trace, resembling a case my father had worked on years earlier…
Black Water by Ninie Hammon
Suspense/Thriller, 4.5 stars, 328 reviews
Bailey Donahue was supposed to stay dead… After witnessing her husband's murder, Bailey's been ripped from her life and secreted away in the Witness Protection Program. Too bad the sleepy town of Shadow Rock was the wrong place to hide. Believed dead by the mafia, Bailey finds herself trapped in a torturous limbo, walled-off from her old life. But that's where she must stay unless she's willing to risk the lives of her eighteen-month-old daughter, or any of the other people Bailey loves most in the world…
Heir of Ashes by Jina S. Bazzar
Science Fiction, 4.5 stars, 94 reviews
At the age of twelve, Roxanne Fosch had a perfectly normal life. By the time she was twenty-two, she was being hunted. After being trapped for years in the clutches of the Paranormal Scientists Society, Roxanne escapes and sets on a dangerous quest for the truth. Hunted by scientists keen to exploit her extraordinary abilities, and dangerous factions whose plans she cannot fathom, Roxanne discovers a shocking secret about her past. But is everything she's ever known a lie?
Tuyo by Rachel Neumeier
Fantasy, 4.7 stars, 254 reviews
Raised a warrior in the harsh winter country, Ryo inGara has always been willing to die for his family and his tribe. When war erupts against the summer country, the prospect of death in battle seems imminent. But when his warleader leaves Ryo as a sacrifice — a tuyo — to die at the hands of their enemies, he faces a fate he never imagined. Ryo's captor, a lord of the summer country, may be an enemy . . . but far worse enemies are moving, with the current war nothing but the opening moves in a hidden game Ryo barely glimpses, a game in which all his people may be merely pawns…
Dead Ringer by Kat Ross
Horror, 4.6 stars, 78 reviews
Harrison Fearing Pell hoped for adventure when she signed on with the Society for Psychical Research as an occult investigator. Slogging through New York's sewers in pursuit of a "mud man" wasn't exactly what she had in mind. But the reeking monster terrorizing the dance halls of the Tenderloin leads her to an even more peculiar mystery — and the last man on earth Harry wishes to become entangled with. James Moran is a prodigy in music, mathematics … and crime. Harry's older sister, the famed detective Myrtle Fearing Pell, has vowed to put him behind bars…
The Gatekeeper's Staff by Antoine Bandele
Children's eBooks, 4.9 stars, 155 reviews
TJ Young has been surrounded by magic his entire life, yet he has never tapped into it… until now. Fourteen-year-old TJ grew up normal in a secret community of gifted diviners in the heart of modern-day Los Angeles. His powerful sister was ordained to lead his people into a new age of prosperity, but her mysterious death in Nigeria threatens to destroy the very foundations of TJ's world…
First Justice by John Etzil
Thriller, 4.4 stars, 292 reviews
The only thing he has left is a passion for revenge. His first chance to get it could be his last…
Jack Lamburt is out for blood. After a brutal terrorist murdered his pregnant wife, he's sworn not to allow another innocent soul to suffer a similar fate. So how can he say no when an old flame in the CIA recruits him for a covert mission to stop an extremist plot to butcher thousands? Flying under the radar, the pair sets course for a Cuban hot zone and Lamburt's first taste of battle…