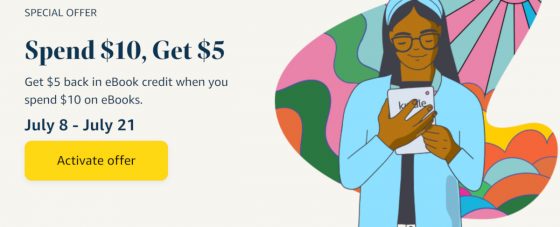 Prime Day officially kicks off tonight at 3am eastern time, and while that's the best time of year to buy a new Kindle at a deep discount (along with Black Friday and Cyber Monday), there are some early Kindle deals worth checking out as well, and not all of them require an Amazon Prime membership.
Woot has some refurbished Kindles available for cheap again, and the prices are actually lower than what Amazon is charging for the same Kindles as part of their early Prime Day deals.
They have the Kindle Paperwhite 4 available for $44.99 with 8GB, and the 32GB version is $59.99. Amazon is charging $20 and $25 more respectively for those same exact refurbished Kindles right now, and Woot doesn't require a Prime membership to get the deals. Yeah, some Prime Day deal that turned out to be (I didn't think it was a very good early deal and that's why I didn't post about it). The main difference is Woot offers a 90-day warranty and Amazon offers a 1-year warranty.
Woot also has the Kindle Paperwhite 3 for $29.99 and the current entry-level Kindle for $34.99 (that's also a better price than Amazon was selling them as an early Prime Day deal for $39.99). All are refurbished. The deal ends on July 14th or until sold out.
Amazon has another Special Offer available for select accounts where you can a $5 ebook credit after spending $10 on Kindle ebooks. That's the best offer for these kind of deals I've seen yet, but eligibility varies by account, and the offer might not be the same for everybody. The offer has to be activated and it runs through July 21st. A Prime membership is not required.
I've also seen the Kindle Unlimited Gift Deals being mentioned again, but it's actually an ongoing sale that never ends and Prime isn't required. You can get 20-40% off memberships, and it works with new and existing accounts.
If you do have Prime or plan on getting a free trial for Prime Day, check back tomorrow morning for a full list of Kindle-related Prime Day deals.