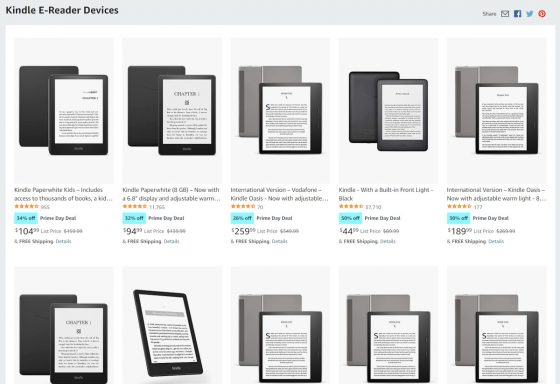 Below is a list of all the Kindle-related deals for Prime day, including huge sales on Kindle ereaders, minor sales on Kindle accessories, and good deals on Kindle Unlimited.
Prime Day is one of the best times of year to get Amazon's devices for the lowest prices. The only catch is an Amazon Prime membership is required to access to the sale prices, but you can always sign up for a free trial if you're not a Prime member so it's easy to get the deals either way.
This year Amazon has some really good deals on Kindle ereaders, setting new all-time low prices on the Kindle and Kindle Paperwhite.
The Kindle Oasis 3 is also on sale for $174.99 again, which is $10 lower than last year, and the same price it sold for on Black Friday and Cyber Monday. I was hoping it would be even lower because that would mean they're phasing it out for a new model, but at this price who knows…
There's also this Audible Audiobooks Deal where you can get 3 months of Audible for free.
See the Prime Day Deals page at Amazon for an updated list of deals.
Kindle Deals
Kindle – $44.99 ($45 off)
Kindle Paperwhite 5 – $94.99 ($45 off)
Kindle Paperwhite Kids – $104.99 ($55 off)
Kindle Paperwhite Signature Edition – $134.99 ($55 off)
Kids Kindle – $49.99 ($60 off)
Kindle Oasis 3 – $174.99 ($75 off) 8GB model
Kindle Oasis 3 – $194.99 ($85 off) 32GB model
Kindle Oasis 3 – $259.99 ($90 off) 32GB model with 4G LTE
Other Kindle Deals
4 Months of Kindle Unlimited for $4.99
Get up to 40% off Kindle Unlimited subscription
Kindle Fabric Covers – 23% off
Kindle Paperwhite 5 Fabric Covers – 23% off
Kindle Paperwhite 5 Leather Covers – 25% off
Kindle Paperwhite 5 Cork Covers – 26% off
Kindle Oasis Fabric Water-safe Covers – 25% off
Kindle Oasis Leather Covers – 26% off
Kindle Oasis Premium Leather Covers – 23% off
Deals on Other Reading Devices
Fire HD 10 – $74.99 ($75 off)
Fire HD 8 – $44.99 ($45 off)
Fire HD 10 Kids Pro tablet – $119.99 ($80 off)
Fire HD 8 Kids Pro tablet – $69.99 ($70 off)
Kobo Sage – $229.99 ($30 off)
Kobo Libra 2 – $159.99 ($20 off)
Kobo Clara HD – $89.99 ($30 off)
Onyx Nova Air – $319.99 ($30 off)
Onyx Note Air – $399.99 ($20 off)