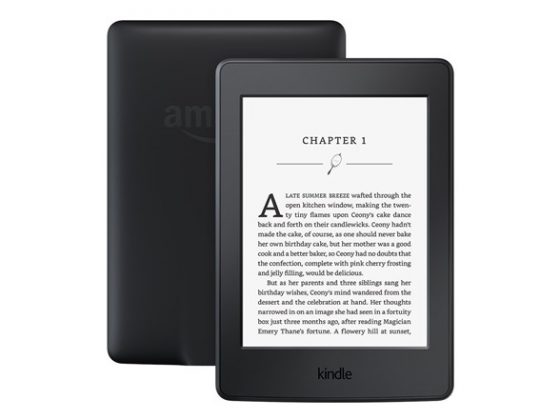 Here's a list of ten free highly-rated Kindle ebooks.
There's also a couple of refurbished Kindle deals at Woot. The Kindle Paperwhite 3 is $29.99 and the Paperwhite 4 is $44.99.
Please keep in mind the free Kindle books listed below are free as of July 21st, 2022. Most of these titles are free for a limited time only and will expire in the next few days or hours before going back to the regular list price.
A good place to find more free Kindle books is on the free bestsellers list at Amazon (but for some reason the list only appears on the desktop version of the site, not the mobile version).
You don't need to own a Kindle ebook reader or a Fire tablet to read these free ebooks; you can use free Kindle reading apps for iPad, iPhone, and Android devices, or use a computer or web browser.
Subscribe to The eBook Reader Blog to keep updated on future free ebooks posts, along with ebook reader news, reviews and how to guides, or you can follow this site on Facebook and Twitter to get updates.
Kindle Deals
Kindle Paperwhite 3 – $29.99
Kindle Paperwhite 3 – $44.99
Get 20-40% off Kindle Unlimited Gift subscriptions
Kindle Unlimited Promos – Offers vary by account
Amazon First Reads – Free eBooks for Prime Members
Get 20% off New Kindle with Trade-in
10 Free Kindle eBooks
Save Me by Molly Black
Suspense/Thriller, 4.3 stars, 1374 reviews
A string of murders around a frozen lake on the American-Canadian border leads the FBI and Canada to create an elite unit to tackle cross-border killers. FBI BAU Special Agent Katie Winter, originally from the Upper Peninsula and accustomed to its harsh winters and rough terrain, is the perfect candidate—yet with the childhood disappearance of her sister still haunting her, it was the one place Katie had hoped never to return.
Lola Is Missing by Alison James
Thriller, 4.4 stars, 1671 reviews
Michelle Harper's world is shattered when six-year-old Lola Jade is stolen from the safety of her own bedroom. She says her ex-husband has taken their daughter. Lola's father denies it was him. Family, friends and neighbours all say they didn't see a thing. But someone must know where the little girl is. Who is lying? And who is telling the truth? Detective Rachel Prince knows the longer a child is missing, the less likely they are to be found alive. Can Rachel find Lola Jade, before it's too late?
August Origins by Alan Lee
Mystery, 4.5 stars, 2090 reviews
The first client at Mackenzie's new office is a stunner. She's also the sheriff. She tasks him with catching a gang general, and do it before more girls go missing. Mackenzie agrees to go undercover teaching at the inner city school, to bring down the general. It's an impossible task; he'd be a bull in a china shop. He could lose his license and people might get hurt. But if anyone can pull it off…
Category Five by Philip Donlay
Thriller, 4.5 stars, 866 reviews
In the Atlantic Ocean, Hurricane Helena is gathering strength, becoming the most powerful storm in recorded history. As Helena bears down on Bermuda, Donovan Nash, along with other members of the scientific research organization Eco-Watch, are called to fly in and extract key government people who have been studying Helena. For Donovan, the routine mission turns deadly when an attempt is made on the life of the lead scientist. A woman from the past, Dr. Lauren McKenna, is suddenly thrust back into his life. With 300 mph winds and waves over 90 feet, Helena marches relentlessly for the vulnerable east coast of the United States…
Savage Prince by Meghan March
Crime Fiction/Romance, 4.6 stars, 1201 reviews
I do what I want and who I want. I don't follow anyone's rules—even my own.
I knew I shouldn't touch her, but it didn't stop me.
Didn't stop me the second time either. Only made me want a third.
My lifestyle suits the savage I am, and she doesn't.
But Temperance Ransom is my newest addiction, and I'm nowhere near ready to quit her yet.
I'll have her my way, even if it means dragging her into the darkness.
Hopefully it doesn't kill us both.
Ohana by Sally Royer-Derr
Mystery, 4.4 stars, 42 reviews
Mandy's life has become a complex labyrinth following the tragic death of her husband and twin daughters. Despondent and depressed, she withers away in a drunken haze on a glorious Maui beach, longing to turn back time, plagued by strange dreams of her family. Even with her in this state, handsome surfer, Chase, cannot stop thinking about the mystery woman he sees lying on the beach every morning, and he befriends her…
Finding Cinderella by Colleen Hoover
Romance, 4.5 stars, 6284 reviews
A chance encounter in the dark leads eighteen-year-old Daniel and the girl who stumbles across him to profess their love for each other. But this love has conditions: they agree it will only last one hour and it will only be make-believe. When their hour is up and the girl rushes off like Cinderella, Daniel tries to convince himself that what happened between them only seemed perfect because they were pretending it was perfect. Moments like that with girls like her don't happen outside of fairytales…
Acheron Inheritance by Ken Lozito
Science Fiction, 4.6 stars, 1280 reviews
On a dying world along the galactic fringe, Quinton Aldren awakens in the body of an archaic android that's barely operational. He has only vague memories of who he was and no idea what has happened. The galaxy has changed, forcing people to adapt, while dangerous machines of the Federation Wars patrol galactic sectors hunting for people like Quinton. He might have missed the war, but his link to the past could be the key to save humanity's future. Will he survive long enough to discover it in time?
The Lost Siren by Raven Storm
Fantasy, 4.4 stars, 214 reviews
A human female born into a breeding manor never has a choice…I am a slave, but at least I am alive. When the man with wings and scales gave me a second choice—I took it. The others of his kind pin me with hungry eyes, but I'll do what I must to survive. I'll preside over their Draken Games—and choose a winner every night to share my bed. The alternative is death. Traded from one prison to the next I have but one hope left—the Lost Siren. I must find her before the demon hordes come if these men—Drakens—have any chance of escaping their mountainous prison, and me along with them.
Rim City Blues by Elliott Scott
Mystery Science Fiction, 4.7 stars, 27 reviews
Felix had always dreamed of becoming a detective: just not at gunpoint. Besides the hot lead motivation, solving the murder of Jeff Hense will get him a ticket into Neotopia. It's the last city on the planet with power, and he's run hundreds of miles only to get stuck outside its blue forcefield dome. He'll need to get through a brothel-ship wedged into a cliffside, and a gang of violent criminals called the Mayors. All while avoiding instant death by a deadly piece of Tek known only as the Scream Ray. Whatever the odds, he's done running. He'll get into Neotopia even if it kills him.