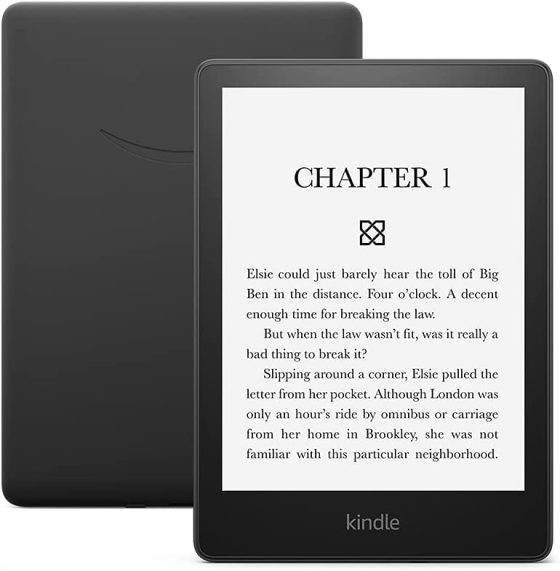 Here's another list of 10 free highly-rated Kindle ebooks to help get the week off to a good start.
Amazon also has the entry-level Kindle on sale for $64.99, and you can get an additional $20 off when buying two, but only the white version is on sale.
Please keep in mind the free Kindle books listed below are free as of August 29th, 2022. Most of these titles are free for a limited time only and will expire in the next few days or hours before going back to the regular list price.
A good place to find more free Kindle books is on the free bestsellers list at Amazon (but for some reason the list only appears on the desktop version of the site, not the mobile version).
You don't need to own a Kindle ebook reader or a Fire tablet to read these free ebooks; you can use free Kindle reading apps for iPad, iPhone, and Android devices, or use a computer or web browser.
Subscribe to The eBook Reader Blog to keep updated on future free ebooks posts, along with ebook reader news, reviews and how to guides, or you can follow this site on Facebook and Twitter to get updates.
Kindle Deals
Kindle – $64.99 ($25 off)
Get 20-40% off Kindle Unlimited Gift subscriptions
Kindle Unlimited Promos – Offers vary by account
Amazon First Reads – Free eBooks for Prime Members
Get 20% off New Kindle with Trade-in
10 Free Kindle eBooks
Fallen Out by Wayne Stinnett
Adventure, 4.4 stars, 3277 reviews
When Jesse McDermitt leaves the Marine Corps, he has no idea what he will do for the rest of his life. He only knows he doesn't want to spend the coming winter anywhere cold. His greatest skill is killing people from up to a mile away and he knows there aren't many job opportunities in the civilian world for that. Jesse also knows his way around boats and has an old friend living free and easy in the Florida Keys. Being an experienced diver and angler, he immediately heads south toward Key West and the end of the road. With a single comment, a waitress in a waterfront restaurant in north Key Largo shakes loose a long dormant dream and Jesse runs with it…
Never Run by Blake Pierce
Suspense 4.3 stars, 490 reviews
May Moore wastes no time investigating, but things quickly go south when her older sister, an accomplished FBI BAU agent who constantly outshines her, is called in by local authorities to help. Making matters worse, the case brings up dark memories and buried secrets from her family's history—and neither May nor her sister are ready to confront the past. But with a ticking clock, May and her sister will have to put aside old grievances to find this killer and save the next victim, and they will have to be careful not to assume this is the same killer from their past…
Aundy by Shanna Hatfield
Historical Romance, 4.6 stars, 847 reviews
Desperate to better a hopeless situation, Aundy Thorsen leaves behind her life in Chicago to fulfill a farmer's request for a mail-order bride in Pendleton, Oregon. When a tragic accident leaves her a widow soon after becoming a wife, Aundy takes on the challenge of learning how to manage a farm, wrangle demented chickens, and raise sheep. Her stubborn determination to succeed upsets more than a few men, including her handsome next-door neighbor…
Rising Storm by Edie James
Religious Romance, 4.6 stars, 754 reviews
When retired Delta Force operative Rollo MacKenzie returns home to become chief of police in tiny MacKenzie Cove, he has lots of expectations…none of them good. What he doesn't expect is to find his first love targeted by a murderer willing to do anything to bury a twenty-year-old secret. After her husband's sudden death, Alyssa Archer scrimped and saved to purchase the abandoned farmhouse on the prettiest hill in McKenzie Cove, but someone wants her off the land. If she won't leave, she'll die…
Blade & Rose by Miranda Honfleur
Fantasy, 4.4 stars, 697 reviews
An elemental mage who just wants her freedom, twenty-two-year-old Rielle is driven by one inevitability: she will destroy the impending arranged marriage to her cruel werewolf fiancé. Then she can happily spend her life independently, working as a mage on missions. If she can keep her position with the mages, her betrothal will soon end. Her master offers her that freedom on one condition: she must take on a mission as a bodyguard escorting an enemy across the kingdom. If she succeeds, her freedom is secure. But if she doesn't…
Division Zero by Matthew S. Cox
Science Fiction, 4.5 stars, 92 reviews
Most cops get to deal with living criminals, but Agent Kirsten Wren isn't most cops. A gifted psionic with a troubled past, she possesses a rare combination of abilities that makes her a powerful weapon against paranormal threats. Adrift in a society that fears people like her, she feels alone in a city of millions. In 2418, rampant violence and corporate warfare have left no shortage of angry wraiths. Most are little more than fleeting shadows or eerie whispers in the darkness, but every so often, one gathers enough strength to threaten the living…
Daughter of Time by Sarah Woodbury
Fantasy, 4.3 stars, 4642 reviews
Sometimes, finally facing what you most fear turns out to be no more difficult than walking through an open door… A medieval man with an uncertain destiny, Llywelyn, the Prince of Wales, faces treachery and deceit at the hands of friends and foes alike. When Meg slips through time into medieval Wales, the pair must navigate the shifting allegiances that threaten the very existence of Wales–and create their own history that defies the laws of time.
Harley James & the Mystery of the Mayan Kings by Leah Cupps
Children's eBooks, 4.7 stars, 72 reviews
Amateur cryptologist Harley James has just landed in the sticky jungle of Tikal, Guatemala—home to the famous Mayan ruins. She's made a few friends, a few mistakes…and a ground-breaking discovery. The legendary statue of the long-lost Mayan King. Just as she is about to impress her father with her discovery, the statue is stolen. Right from her own room! And what's worse? The legend says if the statues of the three kings are reunited, they'll bring back an army from the dead to rule the world…
Contract Snatch by Ty Hutchinson
Thriller, 4.3 stars, 1068 reviews
Two years ago, Sei buried her daughter. Two days ago, she found out she was alive.
After her daughter's death, ex-assassin Sei fled to the Ardennes forests of Belgium to try to find peace. But a mysterious source contacts her, promising to return her daughter. Simply take on one last job: break a notorious assassin out of jail. Diyarbakir Prison is the most dangerous place in Turkey. If torture doesn't kill a prisoner, the guards will. Breaking out is impossible. Breaking in is insane. But if Sei ever wants to see her daughter again, she'll have no choice but to agree to the plan.
Moonshadow by Thea Harrison
Fantasy/Romance, 4.5 stars, 672 reviews
Recovering from a shooting, LAPD witch consultant Sophie Ross leaves her job and travels to the U.K. to search for answers about her childhood. When she encounters a Daoine Sidhe knight of the Dark Court, she becomes entangled in an ancient hatred between two arcane forces. Barred from his homeland along with his surviving brother knights, Nikolas Sevigny is embroiled in a conflict that threatens everything he holds dear. Only by uniting his people's resources can they hope to prevail against Isabeau, the deadly Queen of the Light Court. He will do anything and use anyone to return home to Lyonesse…