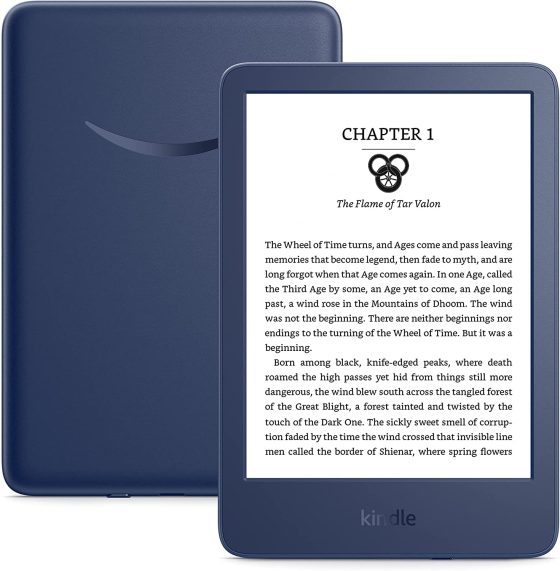 It's time for another list of 10 free highly-rated Kindle ebooks to start off the week.
I usually post Kindle deals along with the list of free Kindle ebooks, but there isn't much for Kindle-related sales lately, unless you live in the UK where all Kindles are currently on sale, except the new model.
Please keep in mind the free Kindle books listed below are free as of September 26th, 2022. Most of these titles are free for a limited time only and will expire in the next few days or hours before going back to the regular list price.
A good place to find more free Kindle books is on the free bestsellers list at Amazon (but for some reason the list only appears on the desktop version of the site, not the mobile version).
You don't need to own a Kindle ebook reader or a Fire tablet to read these free ebooks; you can use free Kindle reading apps for iPad, iPhone, and Android devices, or use a computer or web browser.
Subscribe to The eBook Reader Blog to keep updated on future free ebooks posts, along with ebook reader news, reviews and how to guides, or you can follow this site on Facebook and Twitter to get updates.
Kindle Deals
Get 20-40% off Kindle Unlimited Gift subscriptions
Kindle Unlimited Promos – Offers vary by account
Amazon First Reads – Free eBooks for Prime Members
Get 20% off New Kindle with Trade-in
10 Free Kindle eBooks
Holiday with You by Claudia Burgoa, Grahame Claire
Holiday Fiction, 4.6 stars, 236 reviews
My job was to drive to Winter Valley and acquire the quaint bed and breakfast. Closing the deal could change my career. Maybe even my life. I wasn't expecting a blizzard or a car accident. And who could predict the sexy, unavailable, single Dad Colin Bradford? Not me. The repairs won't be done until Christmas Eve. I'm stuck in Winter Valley until her car is fixed. There's something magical about being in a small town at Christmas…
Under the Maui Sky by Kellie Coates Gilbert
Romance, 4.4 stars, 1195 reviews
Aloha! Welcome to the Maui Island Series where the dramas of everyday life keep the Briscoe family and their friends laughing, crying and falling in love. Set against the lush backdrop of a tropical island, Under the Maui Sky captures the emotionally charged, complex dynamics that come with being part of a family. Readers will laugh and shed a few tears as Ava Briscoe and her children discover what it means to be loved, supported and accepted by the people who mean the most…even in the face of deep betrayal…
Not Today by David E Feldman
Mystery Thriller, 4.3 stars, 38 reviews
Beach City has a long and checkered history. One of the most beautiful beachfront communities on the east coast, it was once summertime home to gangsters and movie stars. Century-old political infighting led the police commissioner to murder the mayor. In some ways, little has changed. An unintentional death gave birth to fear, which blossomed into corruption, followed by evil that grew and built on itself, until it took over an entire city…
Bitter Autumn by Lyn Cote
Mystery/Suspense, 4.6 stars, 273 reviews
When Grey returns to his small Wisconsin hometown on the shore of Lake Superior to care for his beloved great-aunt, he's determined to seek forgiveness for his past. But as he falls into an unlikely romance, danger looms on the horizon… But one truth many don't realize until it's too late—vengeance can be dangerous. A suspenseful love story of redemption and second chances from a Carol Award–winning author, you don't want to miss.
Dead Like Ned by A.A. Albright
Fantasy/Mystery, 4.4 stars, 109 reviews
"My name is Nedina Marvin, but please call me Ned." When Ned inherits a mysterious set of artefacts from her long-dead dad, her life takes a very strange turn – particularly when one of the artefacts renders her temporarily dead. The artefacts were discovered in the house of a murdered man, Marlon White, but a dagger is missing – a dagger which could have been the murder weapon. Ned must track down the missing dagger, learn the secrets of the artefacts, and discover: who killed Marlon White?
Agent G: Infiltrator by C. T. Phipps
Science Fiction, 4.5 stars, 95 reviews
"Black Technology has made murder a billion dollar industry." The International Refugee Society has twenty-six cybernetically enhanced "Letters," and for the right price, they'll eliminate anyone. They've given up their families and their memories for ten years of service with the promise of a life of luxury awaiting them. Agent G is one of these "Letters," but clues to his past are starting to emerge while he's on a dangerous mission to infiltrate the Society's most dangerous competitor. In the midst of all the violence, subterfuge, and deceit, he'll need to keep his wits about him and trust sparingly…
Pooches, Pumpkins, and Poison: A Pooch Party Cozy Mystery by Carolyn Ridder Aspenson
Mystery, 4.5 stars, 172 reviews
My name is Missy Kingston, and I'm a widow. After my husband's sudden death, I had a lot of time on my hands—and a lot of life insurance money. I'm also a devoted dog lover, so I decided to take that money and invest it, and my time, in the local animal shelter. I spend my days training dogs to improve their chances of adoption and, of course, loving on them like crazy. It's the annual Halloween festival, and the shelter, sponsored by yours truly—is holding a pooch party. What could be better than a festival full of children playing with puppies?
Dracula's True Story by Brent Reilly
Thrillers, 4.8 stars, 163 reviews
The most historically accurate Dracula novel ever written — plus vampires. Most named characters and events are real. Vlad the Impaler was not a count from Transylvania, but a blood-thirsty prince of Wallachia like his father and brothers. He was only in his 20's during his infamous 6-year reign of terror, and he repeatedly defeated bigger foreign armies by using scorched earth tactics and terror as at weapon. Three times he ruled his family's kingdom, and three times he was deposed. Feast your eyes on the fascinating real man who impaled thousands, got praised by the Pope, and fought kings, cousins, and Mehmed the Conqueror.
The Amplifier Protocol by Meghan Ciana Doidge
Fantasy, 4.5 stars, 790 reviews
They called me an amplifier. And they had bred me, raised me, and trained me to be a killer with preternatural precision. I was capable of taking, holding, and transferring power that wasn't my own with a simple touch. Skin-to-skin contact. Along with four others of my generation, I could infiltrate any magical organization, extracting whoever or whatever I'd been ordered to extricate. Then I could destroy all evidence of our passing presence. They had made me. They directed me. Controlled me. Then they tried to kill me.
Zombie Inc by Chris Dougherty
Horror, 4.4 stars, 403 reviews
WELCOME! To Zombie, Inc. The United Five State Republic's leading manufacturer of zombie defense systems! In business since 2027, Zombie, Inc. puts YOU first. YOUR safety is our MAIN GOAL! Our many home defense options – from Ze Fence® to Ze Popper® to Ze Shed® – fit every need and every budget. Use Scan Code "TELL ME MORE!" for your FREE, in-home*, no obligation consultation! *Schedule your appointment with the confidence that you will NEVER HAVE TO LEAVE YOUR HOME! It isn't safe out there and we know it better than most! Our sales staff is FULLY TRAINED to handle any and all adversarial encounters with the living and the undead…